5 tops tips for using wall stickers in your baby's nursery
For many mums (and dads!) to be, planning a nursery ready for a new little bundle is a truly lovely part of pregnancy. It gives you the chance to spoil your little person before they've even arrived, plus it's one less thing to think about once they're born (when let's face it, things suddenly get a lot busier!). Somehow, having their room all ready really makes everything feel very real indeed, and decorating a child's space gives us the chance to have so much fun with the decor, being as imaginative as we like and coming up with lovely schemes to capture our baby's imagination as they grow.
The original inspiration for starting Stickerscape actually came from decorating a nursery, and since then we've had the pleasure of seeing plenty of nursery interiors that really have the wow factor.
To help you think about your nursery decor we've come up with 5 top tips on how you can use wall stickers to help decorate your nursery.
1. Create a focal point
Wall stickers have come a long way since the little stick around packs which can look like you've let the kids loose on the walls with the sticker books. A well made wall sticker should look just like a painted mural on the wall, with the only difference being that you'll know it took just minutes to apply, and is cleanly removable when the time comes for a change! Some of the designs we get most excited by are the large, transformational wall stickers, that can take a blank canvas and give a real focal point to your nursery. These designs are hugely engaging for your little one, and are a brilliant background for wonderful old-fashioned, imaginative play… think pretend picnics with the playfood on a blanket set out 'under' a tree, or den making with a blanket to create a pretend spaceship against a space themed backdrop.
In creating a focal point, many of our customers use one of our Woodland trees as the centrepiece. Shown below are a couple of examples of how people have used our Woodland Tree wall sticker from our Woodland Friends collection.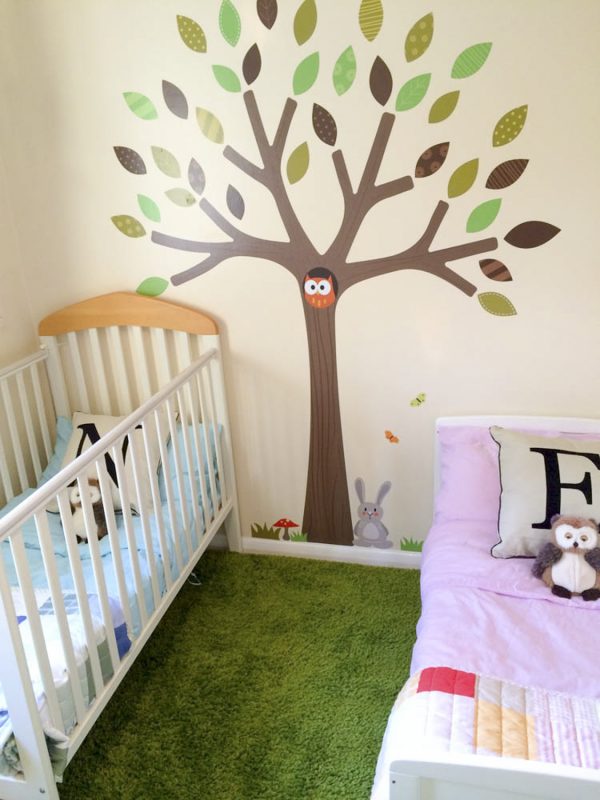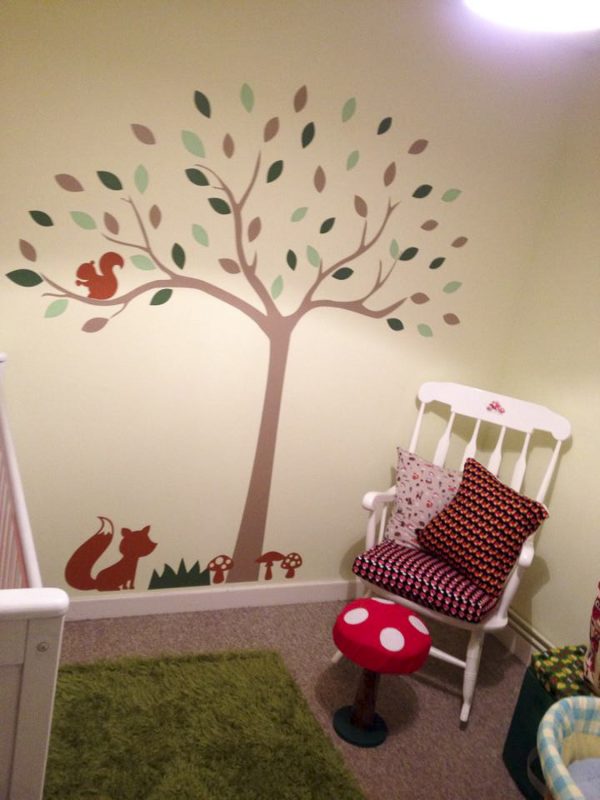 These are fantastic examples how using one large statement wall sticker can completely transform your nursery. Adding additional accessories to match your chosen theme can then really help to provide a fantastic space for your little one. Our ranges provide lots of options for these additional accessories, which allows you to pick as much or as little as you want for the space you have available.
2. Make your wall stickers part of their bedtime routine
We absolutely love hearing stories from our customers when they tell us that our wall stickers are a key part of their child's bedtime routine. Because they are so visual, wall stickers are perfect for this, whether it be saying night night to all the animals, making up bedtime stories together involving the wall sticker characters, or even wishing Igglepiggle sweet dreams.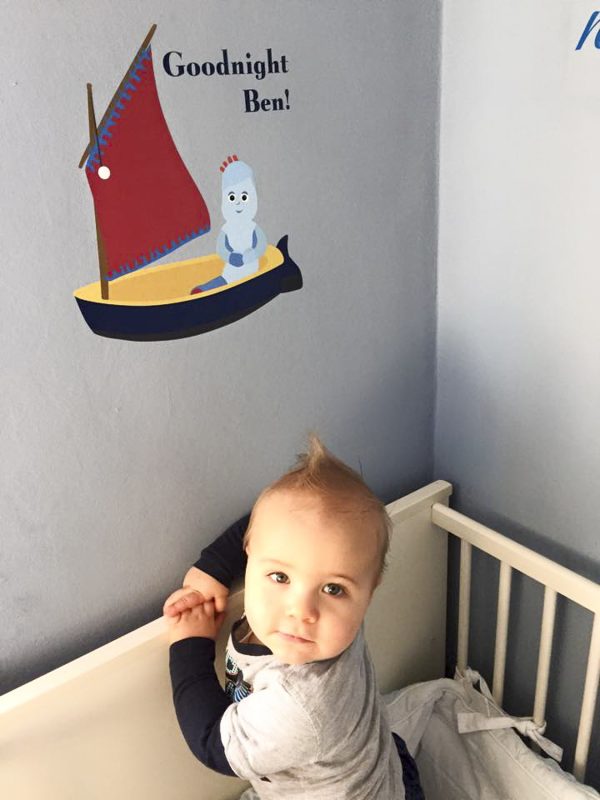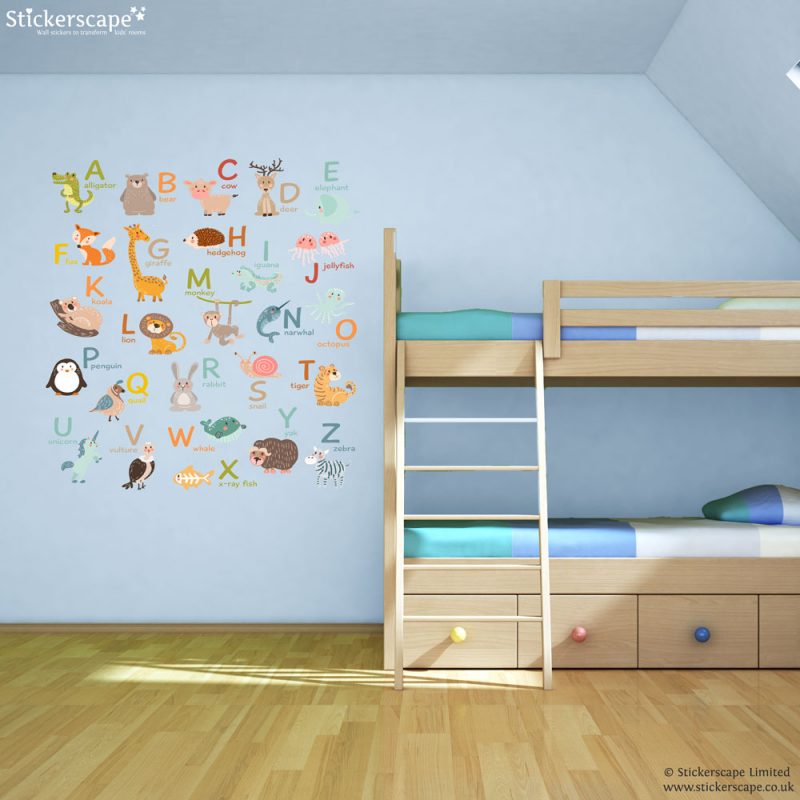 When your little one gets a little older, our alphabet wall stickers are also a perfect, fun way to practice the alphabet. Our alphabet wall sticker collection includes this Animal Alphabet wall sticker (shown above, left), available in different size options too so that you can again pick the perfect wall sticker for your space.
3. Choose a gender neutral design when you don't know the sex
Only a limited number of studies have been conducted into the percentage of parents-to-be who wish to find out the sex of their baby. The biggest study was conducted by Harvard Medical School in 2001 which suggested that overall, 58% of women and men choose to find out the sex. That leaves 42% of people who, when decorating their nurseries, don't know the sex of their imminent arrival! Despite this, loads of nursery decor often heavily leans toward either a boy or girl, which can make it hard to organise your space in advance (and frustrating if you don't want to go down a heavily pink or blue route!). Plus, if you're considering extending your family any more over time, if you're decorating a family space like a playroom, or if your children share a bedroom, having a gender neutral design is also hugely practical.
Loads of our wall sticker designs are really gender neutral, including whole themes like our farm range, or individual designs. For example, within our baby wall stickers collection, we have a range of watercolour wall stickers designed by the fabulous Emma Vallis – perfect for adding a pop of colour to a gender neutral nursery!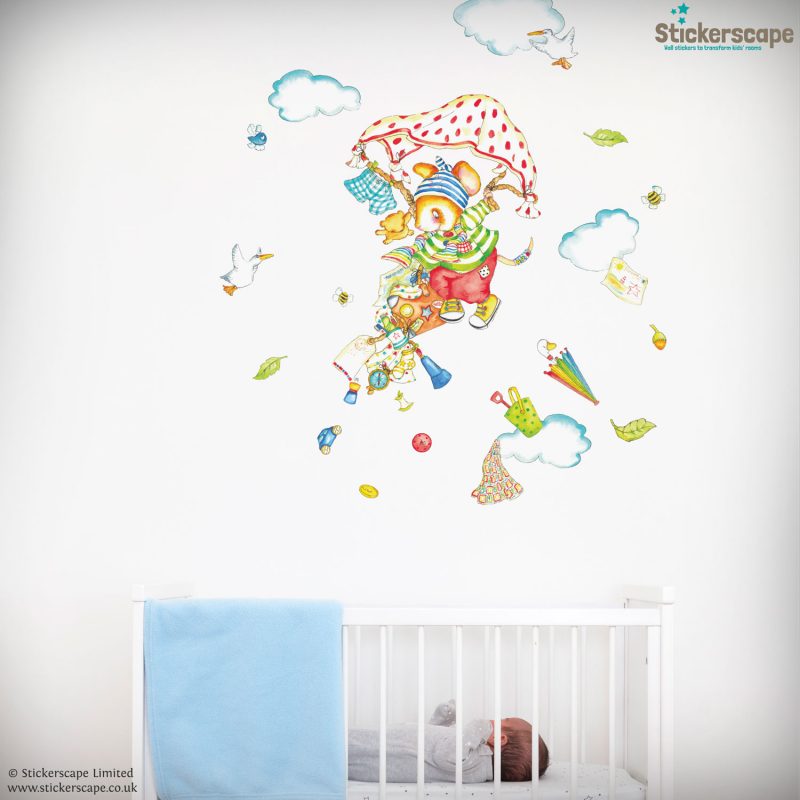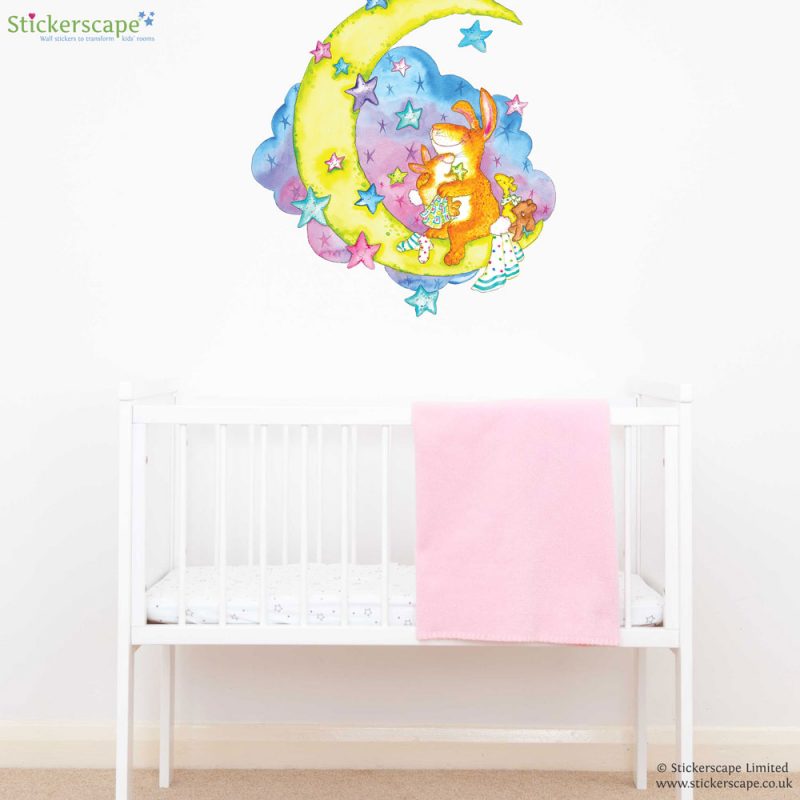 4. Think about adding a personalised element
If of course, you want to wait to accessorise your nursery until your little one has arrived and you know the sex, wall stickers will only take minutes to put up. They also won't leave any odours in your nursery (unlike applying a new coat of paint) so it's completely safe if baby is already sleeping in their room.
At this point, adding one of our personalised wall stickers can make your nursery interior truly unique. We've shown some of our favourite personalised wall stickers for nurseries below.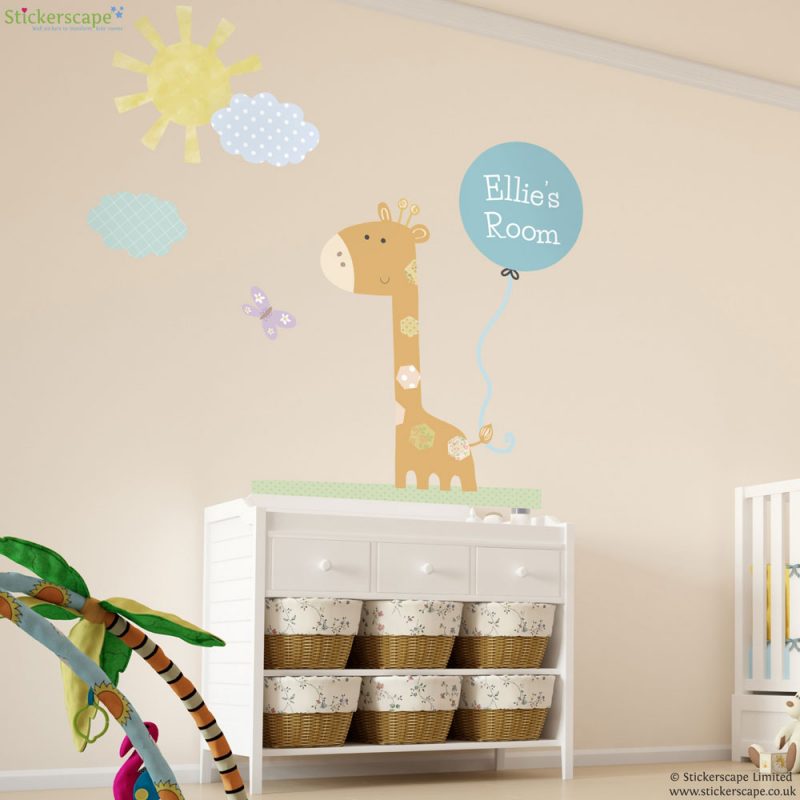 5. Don't forget to buy something for big brother or sister
The addition of your newest family member can be an incredibly exciting time. However, it can also be a challenge to make sure any older siblings don't feel left out as you have to focus your attention on your new arrival.
If they've just moved into their 'big boy' or 'big girl' bedroom then it could be a great time to add something fun and personal that's just for them, without anything time consuming involved like re-painting! It's at this point that they've probably developed some fairly strong opinions on what they do and don't like. Letting them choose their theme, therefore, can be a great way of making them feel in control and grown-up after you've spent time re-decorating the nursery. You can shop by theme by clicking here – why not browse with your little one and see where their imagination takes you! We've shown some of our most popular themes below.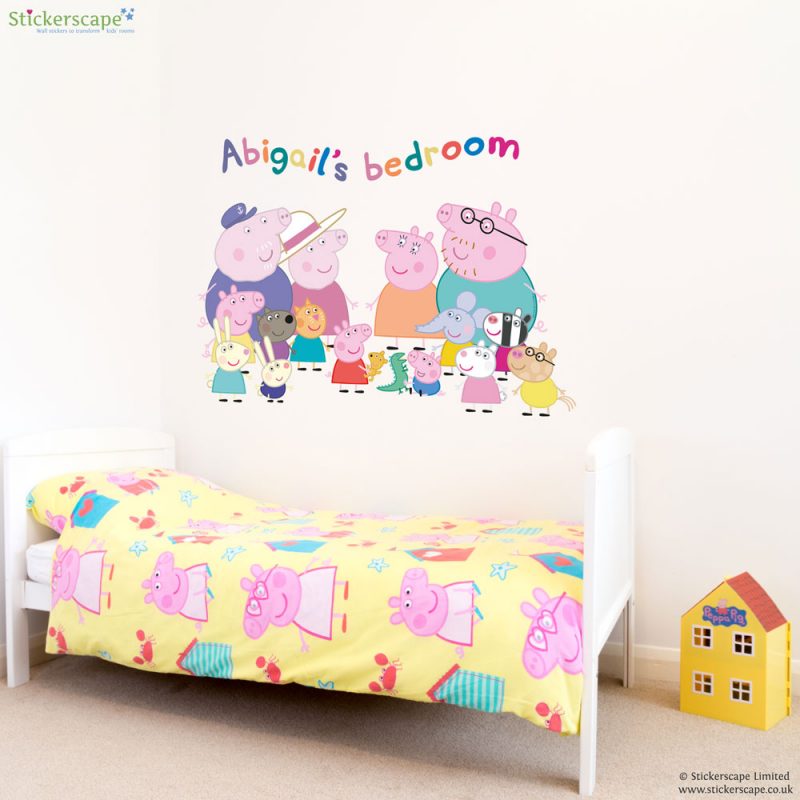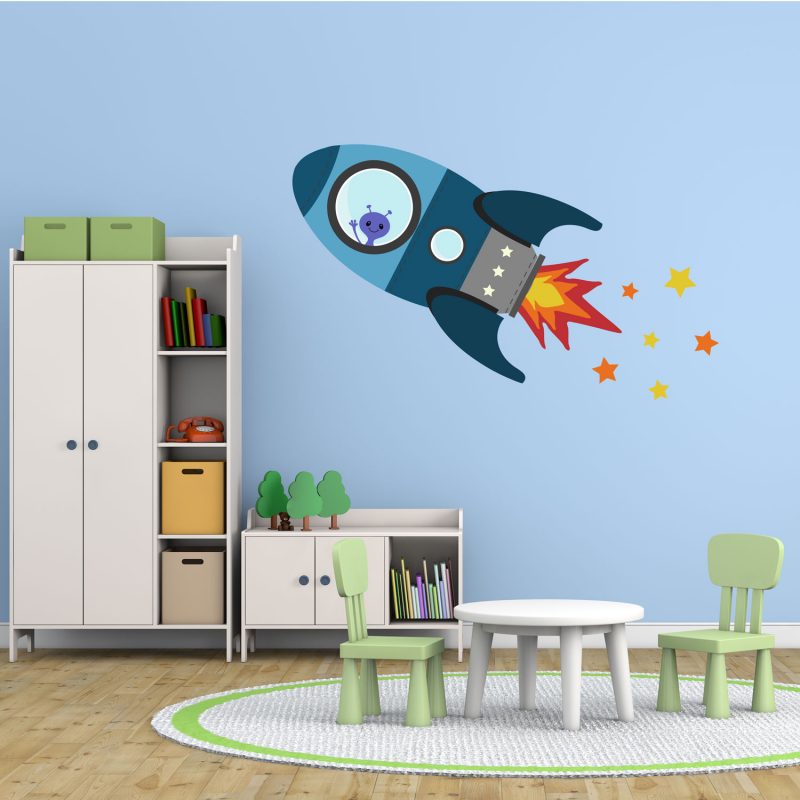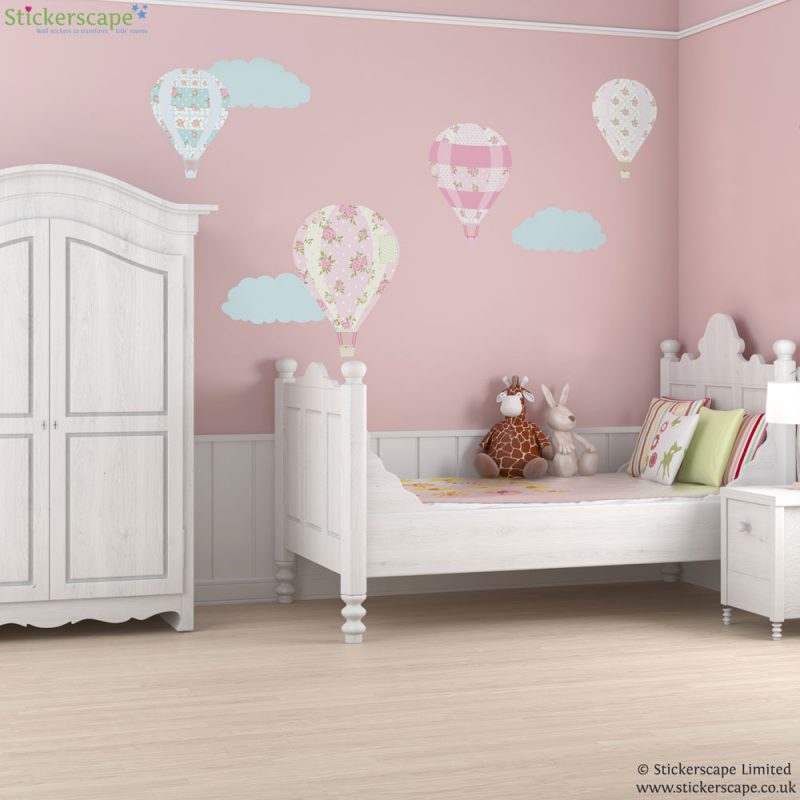 We hope this has inspired you with the many way you can use wall stickers in your baby's nursery. We always love to hear from our customers on how you've used your wall stickers in your nursery so please get in touch, we'd love to hear from you! For more real rooms featuring some inspiration on how to use Stickerscape wall stickers, follow this link.
Save
Save
Save