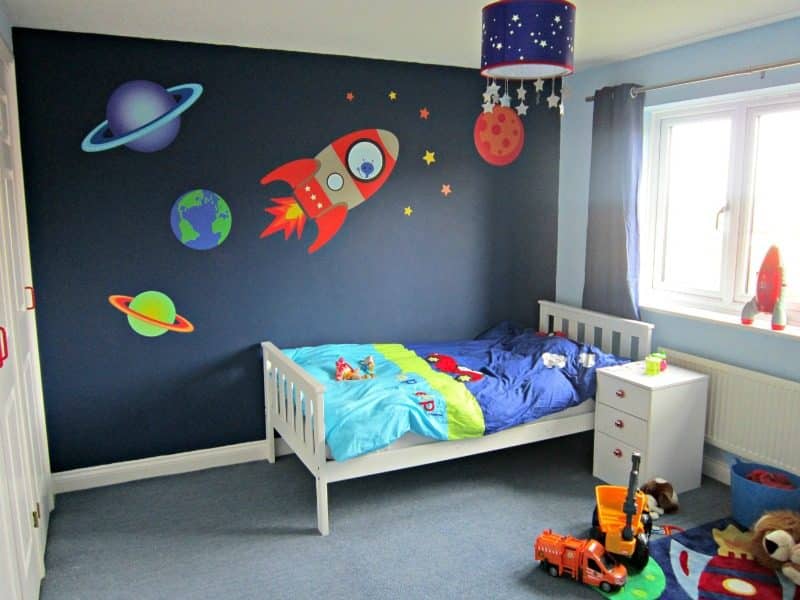 Space themed bedroom This space themed bedroom uses our flying red rocket wall sticker and planet wall sticker pack to transform this boy's bedroom.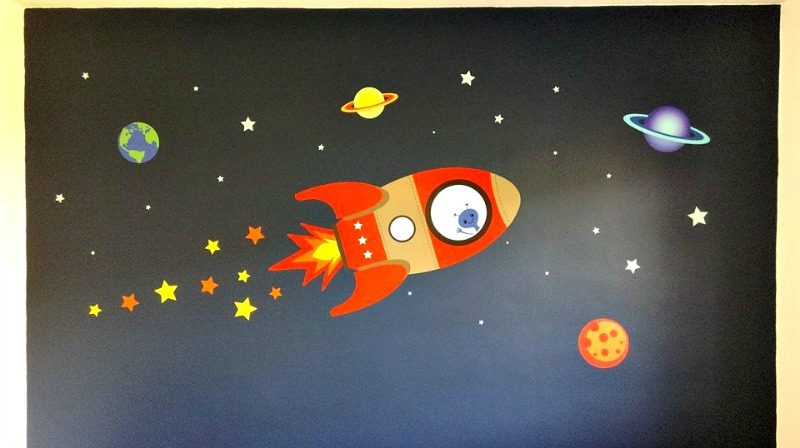 Space themed room Our red flying rocket wall sticker with complimenting planet wall stickers
Owl and balloon wall sticker Personalised owl and balloon wall sticker (Regular size) perfect for adding a unique finishing touch to a playroom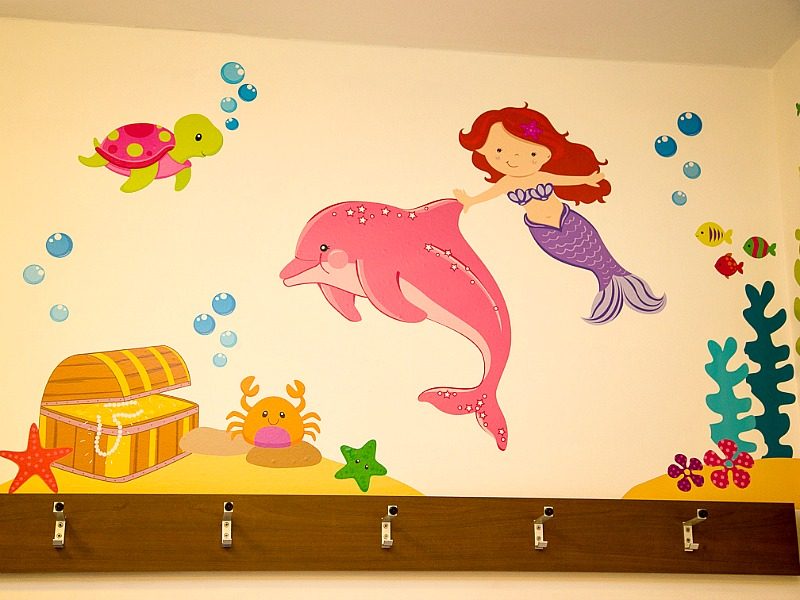 Bespoke graphic for Water Babies Part of a child's swimming pool makeover, this bespoke graphics provided a great focal point for a girl's changing room
Girl's changing room makeover Bespoke underwater scene for swimming changing rooms for Water Babies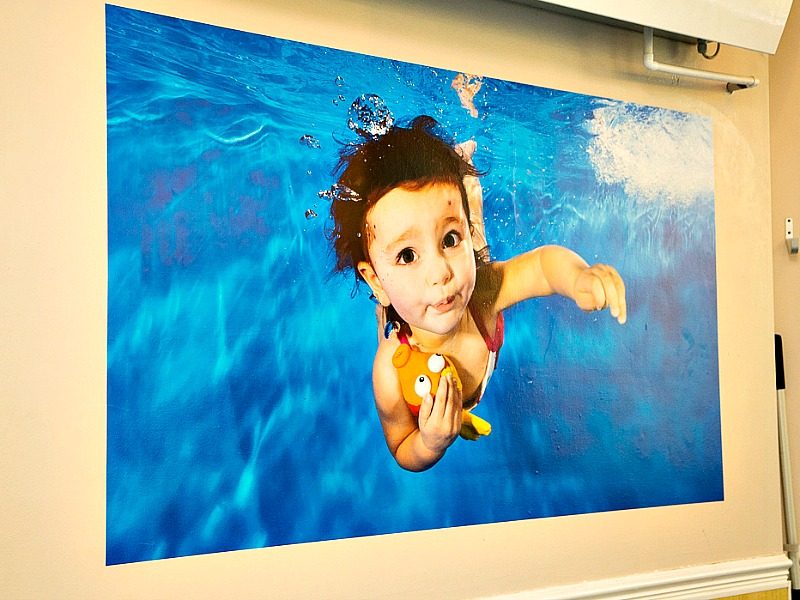 Water Babies makeover Bespoke photo graphics for baby's swimming pool
WB Elcot Bespoke photo graphics for baby's swimming pool
Swinging Goose wall sticker From our Goose & Friends wall sticker range, this swinging Goose design is perfect for the top corner of a room!
Space themed room Taking a blank wall and creating a space theme with our blast off rocket wall sticker and our spaceships and satellites wall sticker pack
Personalised quote This personalised quote is a perfect unique finishing touch for a boy's bedroom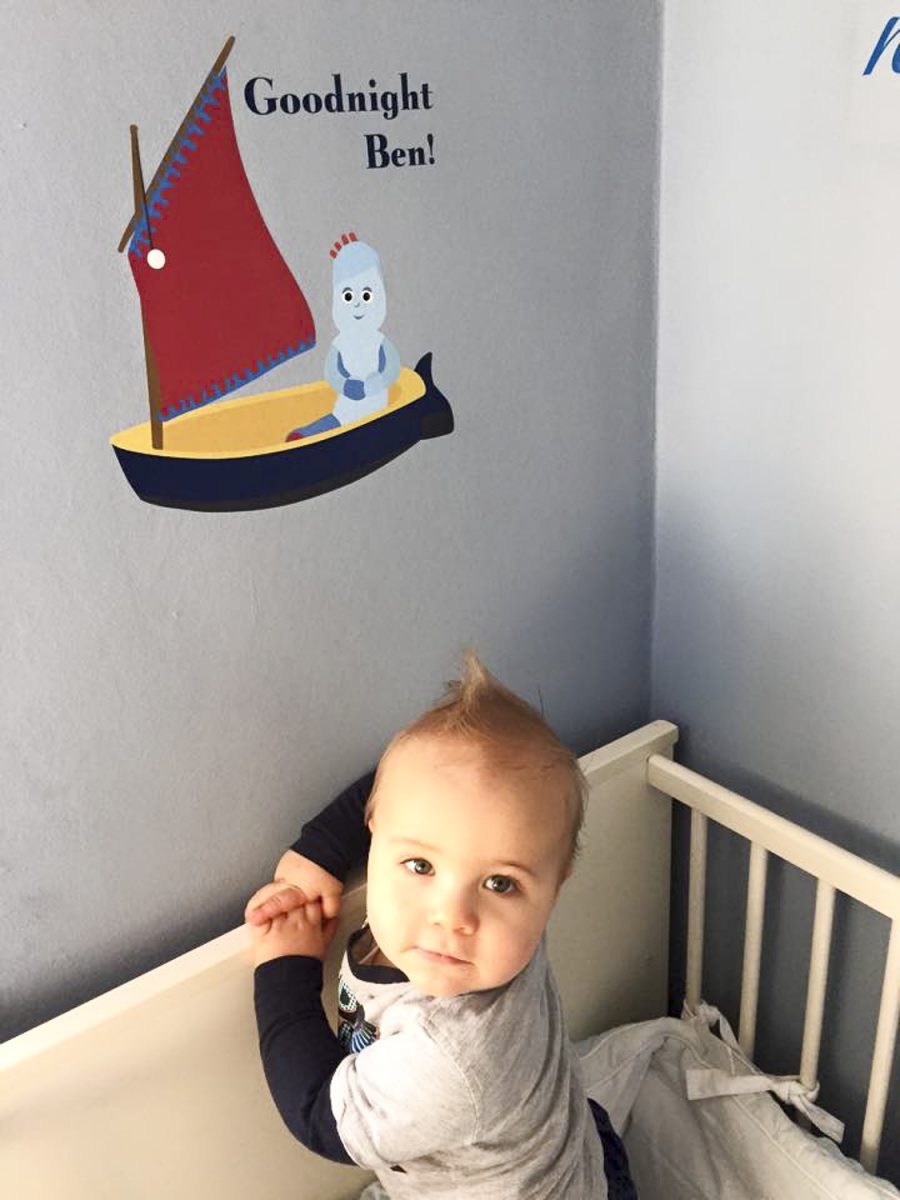 Personalised Goodnight Igglepiggle wall sticker Say goodnight to your favourite In the Night Garden character with our personalised goodnight Igglepiggle wall sticker
Farm themed picket fence border Some of our wall stickers are perfect for joining together to create a border effect. Here, our picket fence wall sticker has been joined together to provide the perfect finishing touch to this reading corner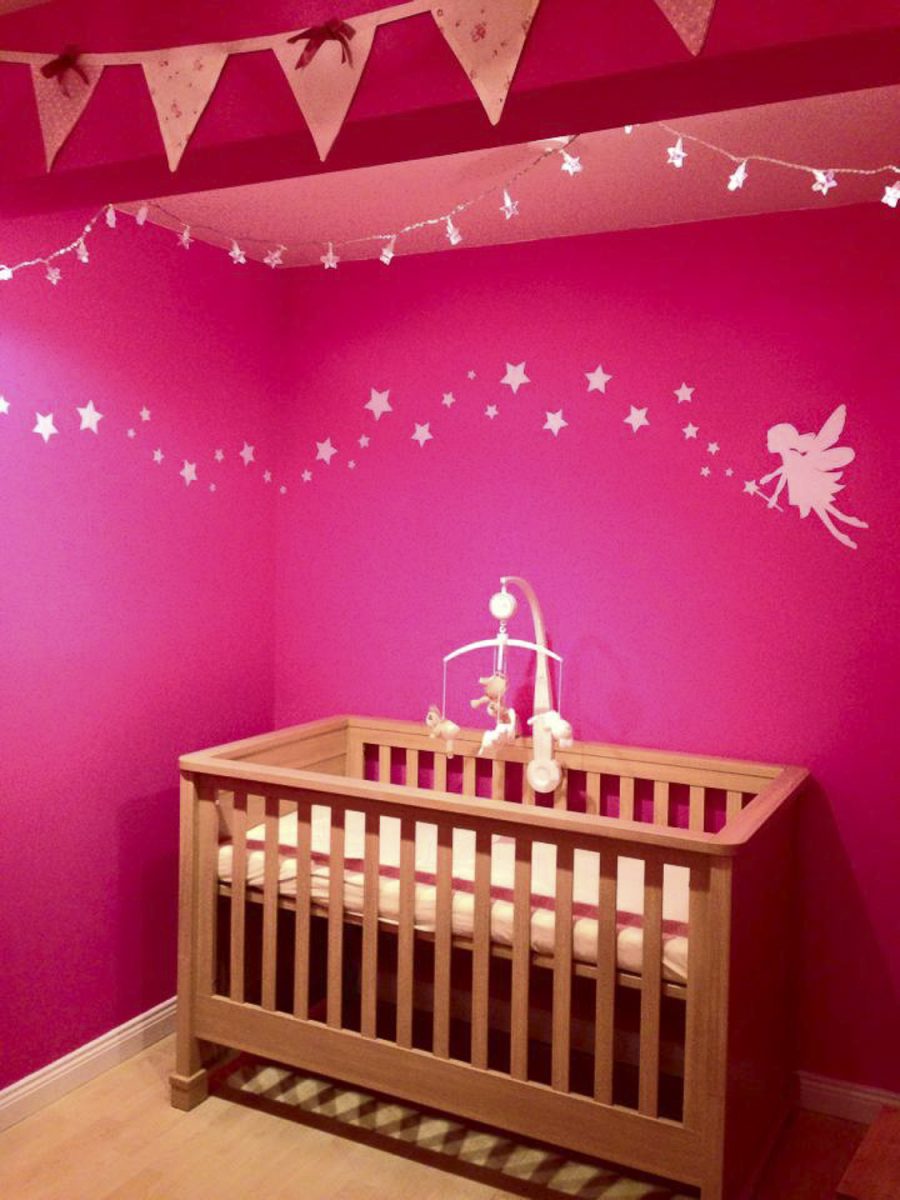 Bespoke fairy themed room This custom coloured fairy and butterflies pack has been applied to a contrasting pink wall for maximum impact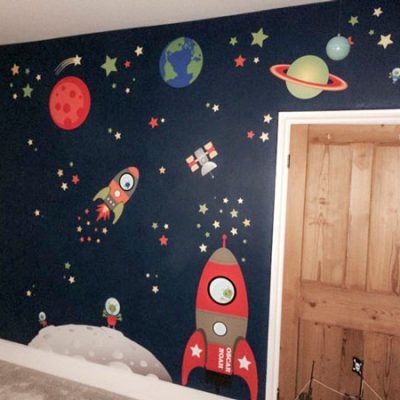 Space wall stickers A fantastic collection of our space wall stickers completely transform this little boy's bedroom!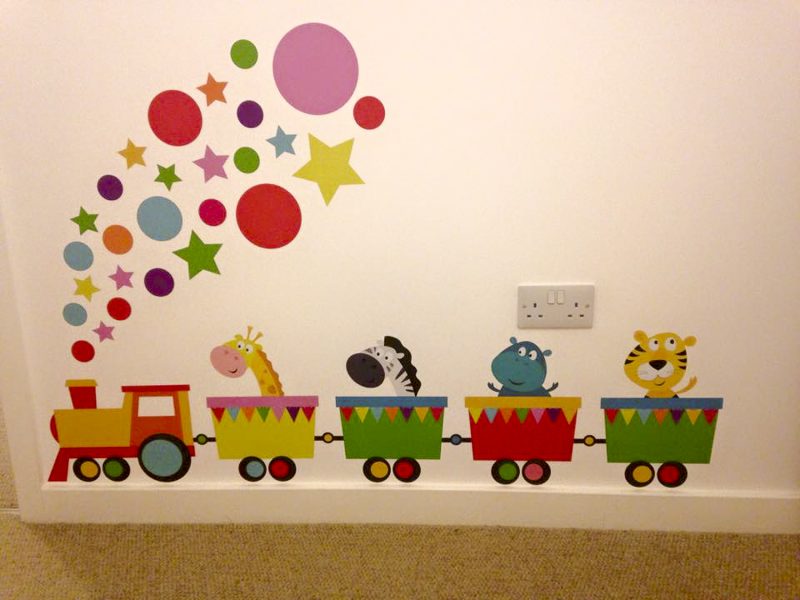 Jungle train wall sticker Brighten up a boy's bedroom with our jungle train wall sticker! Perfect for running along a skirting board or chest of drawers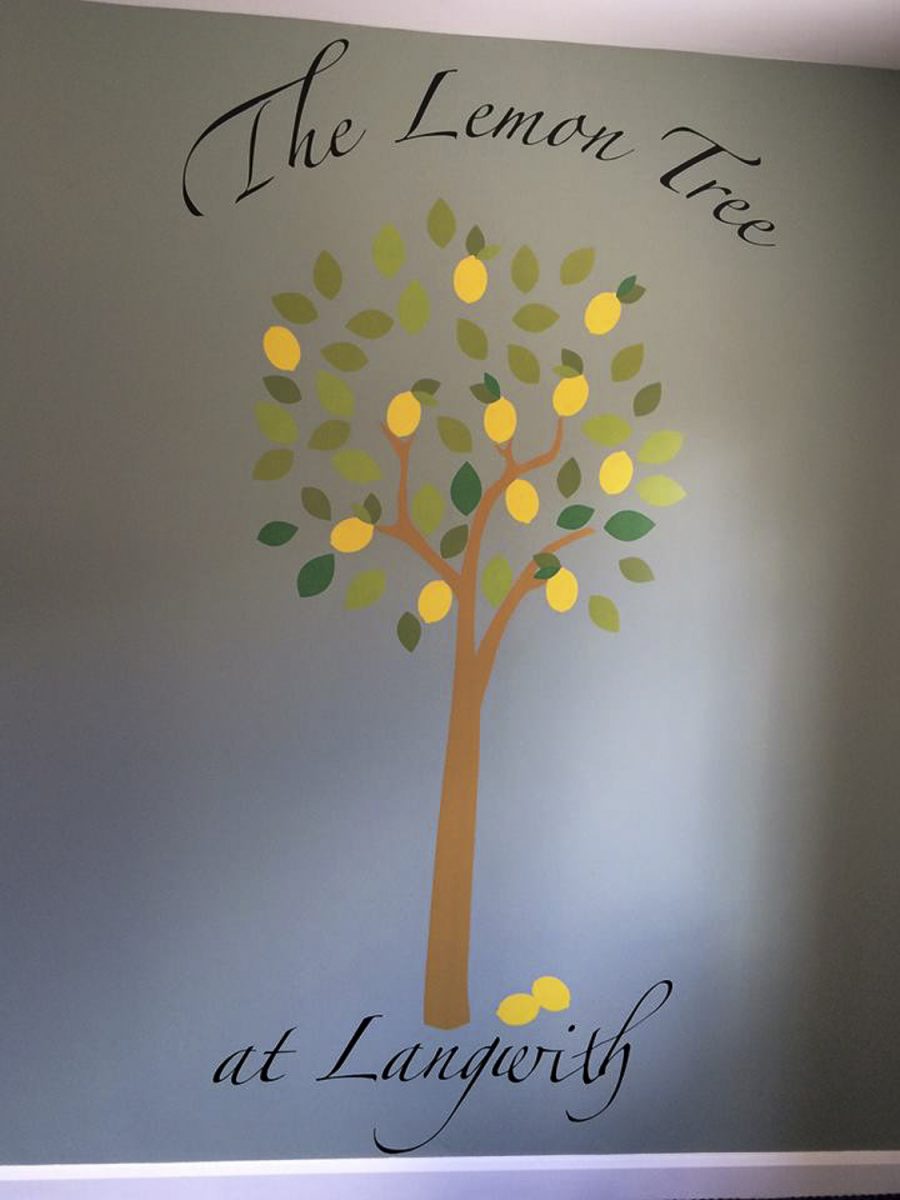 Custom graphic for a coffee shop We also do bespoke work on occassion - here we designed a bespoke lemon tree for a coffee shop to enhance their branding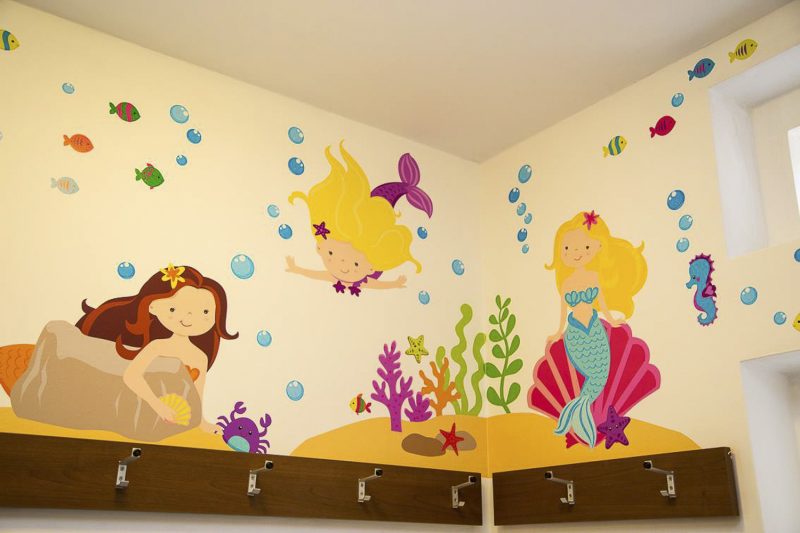 Bespoke wall stickers for Water Babies We transformed a boys and girls changing room for Water Babies to create a bright and colourful underwater scene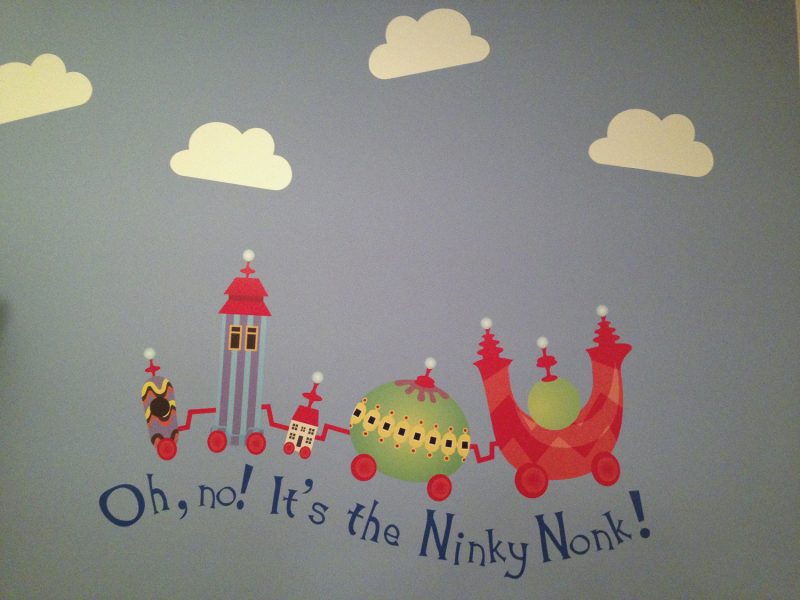 Oh No it's the Ninky Nonk! Our In the Night Garden wall sticker range includes all your favourite characters from the hit children's TV show, including this Ninky Nonk design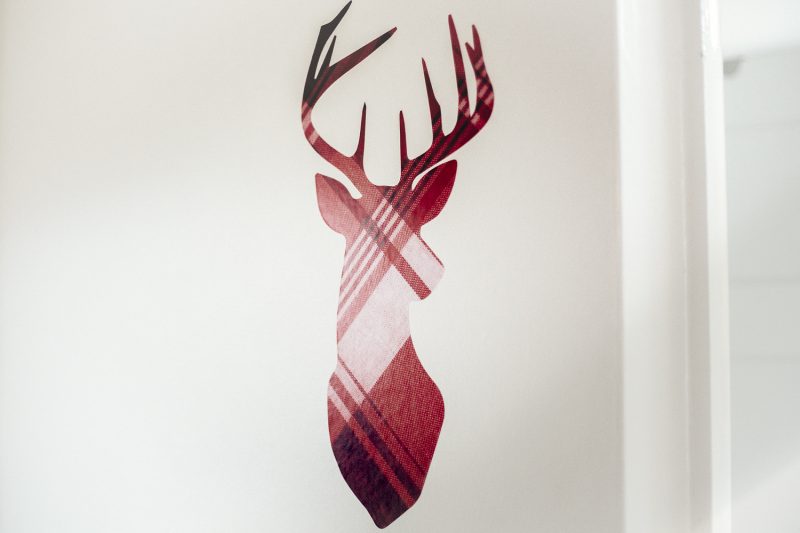 Stag wall sticker Part of our Christmas wall sticker collection, this stag head with red and white tartan is sure to add a festive look to any room!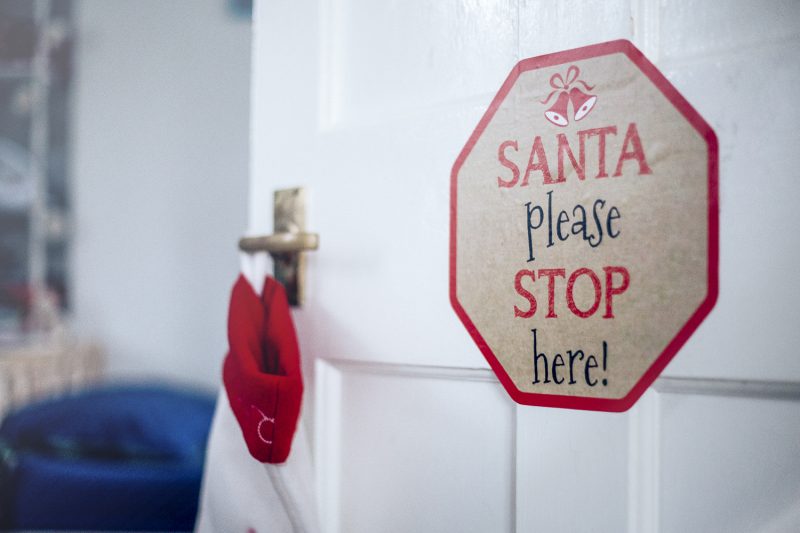 Santa stop here! Part of our Christmas collection, this Santa please stop here wall sticker is perfect to apply to a door or wall in time for Santa's visit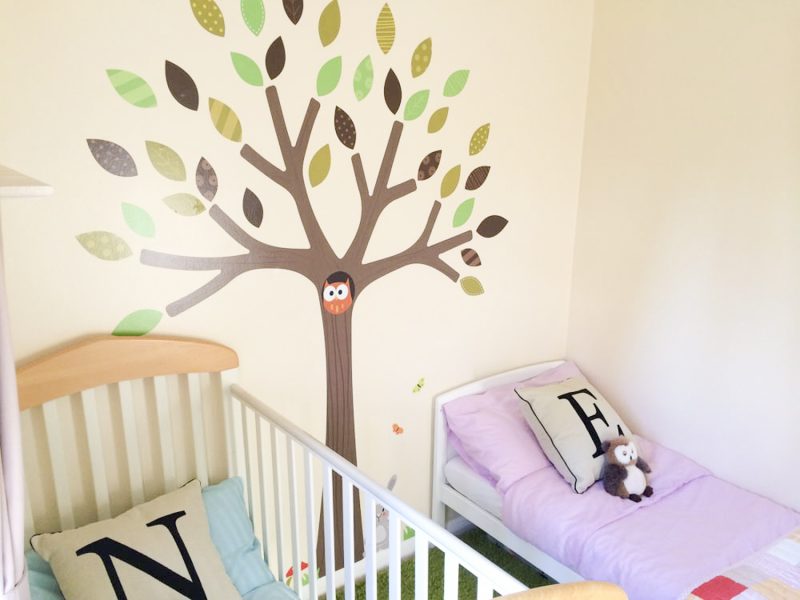 Woodland Friends makeover This nursery for a boy and girl was transformed with our Woodland Friends wall stickers. The Woodland Tree was used to create a focal point in the room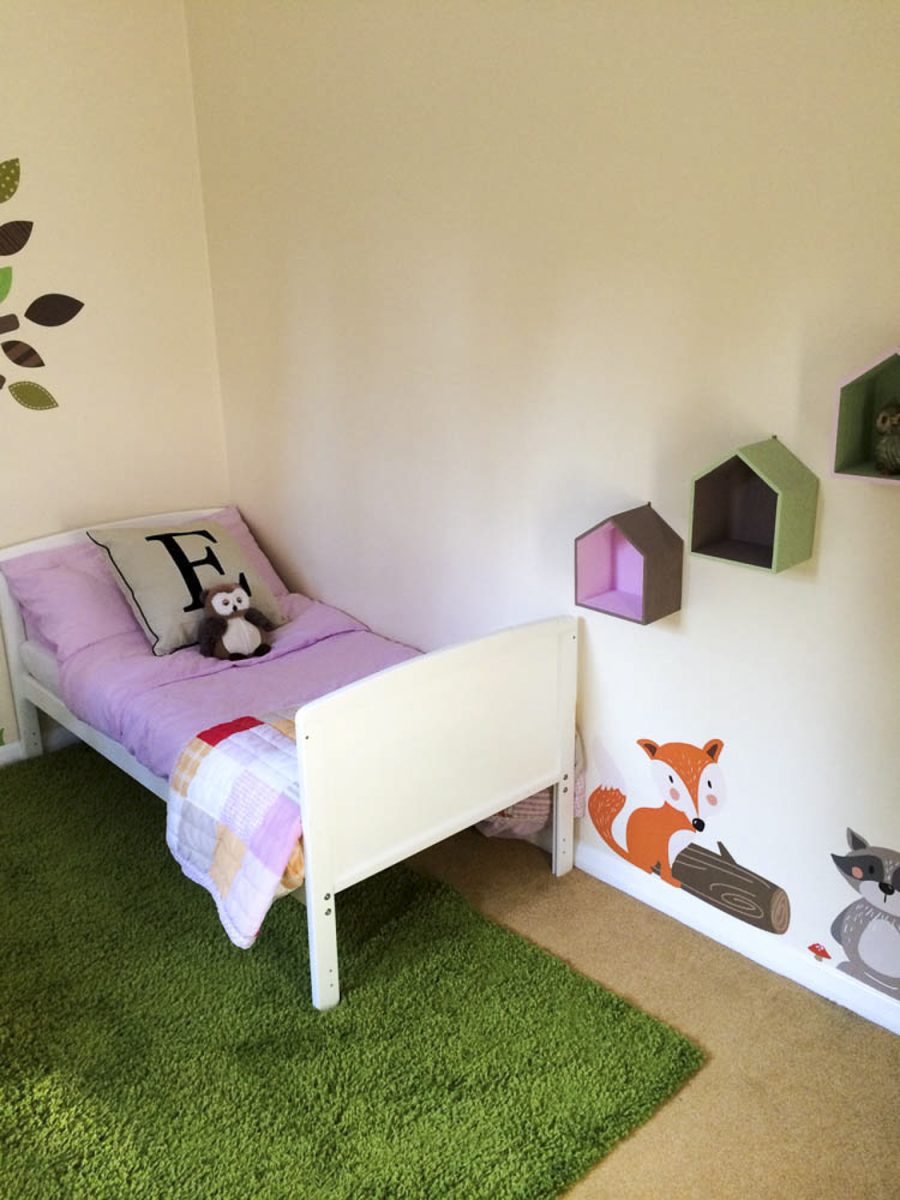 Woodland Friends makeover Continuing the makeover, the fox and raccoon wall sticker set were used to add accessories around the room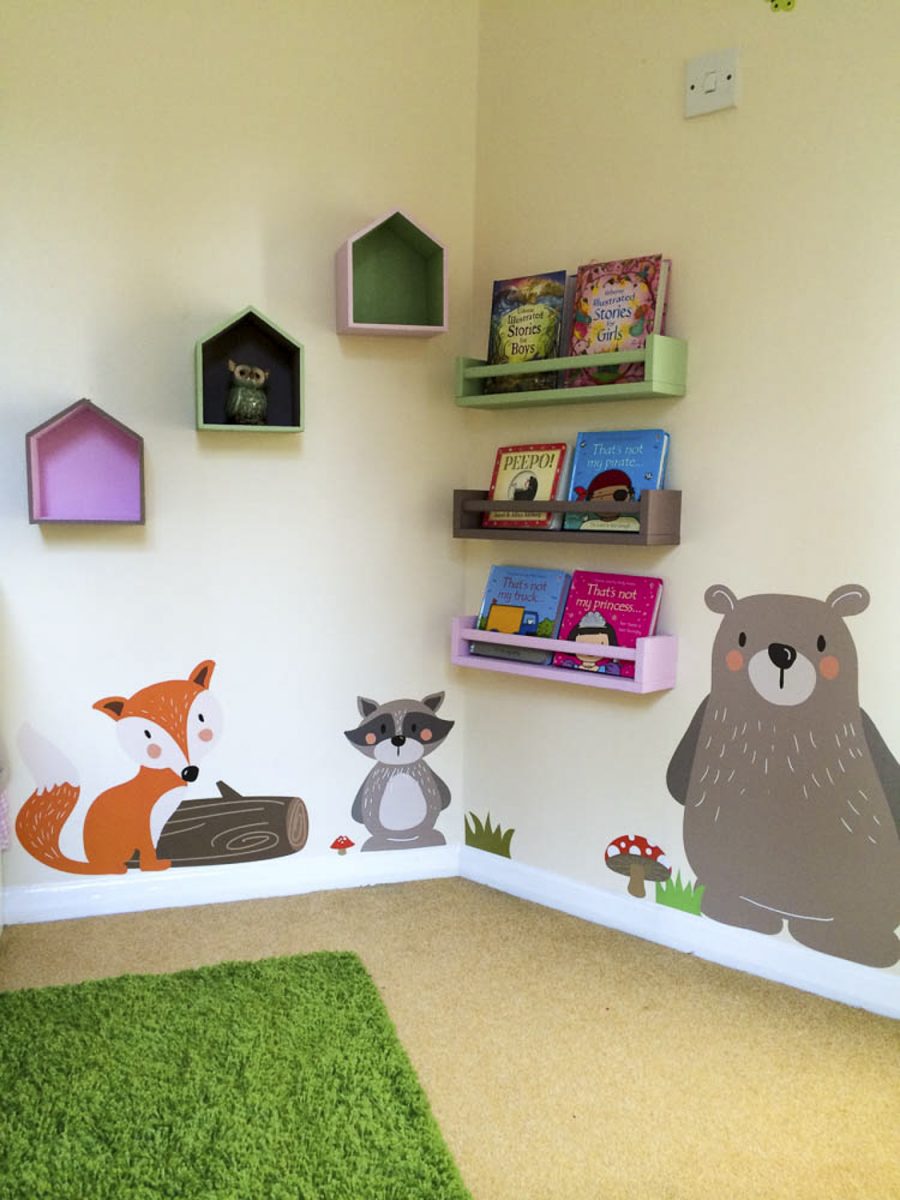 Woodland Friends makeover More Woodland critters provide a great finishing touch to a little reading corner in this nursery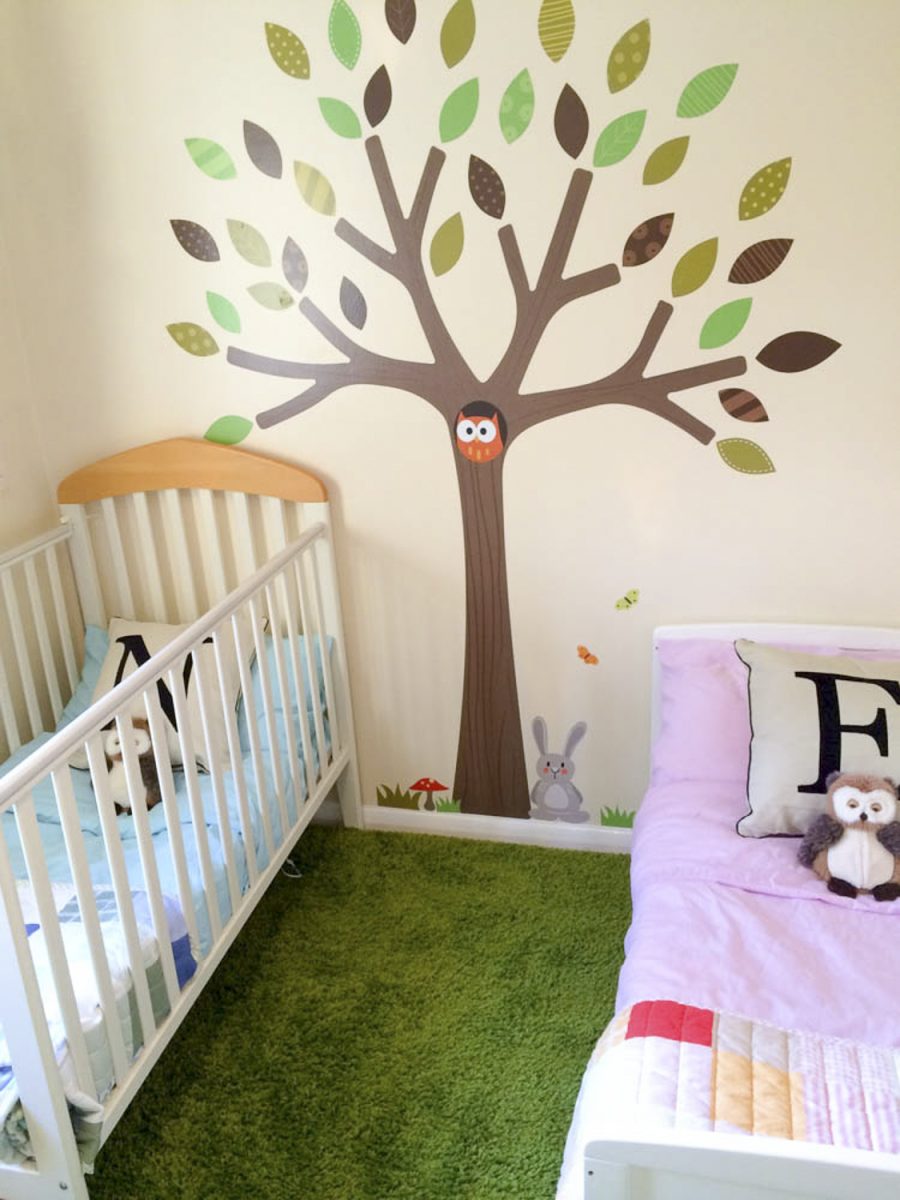 Woodland Friends makeover A nursery for a boy and girl transformed with this unisex woodland theme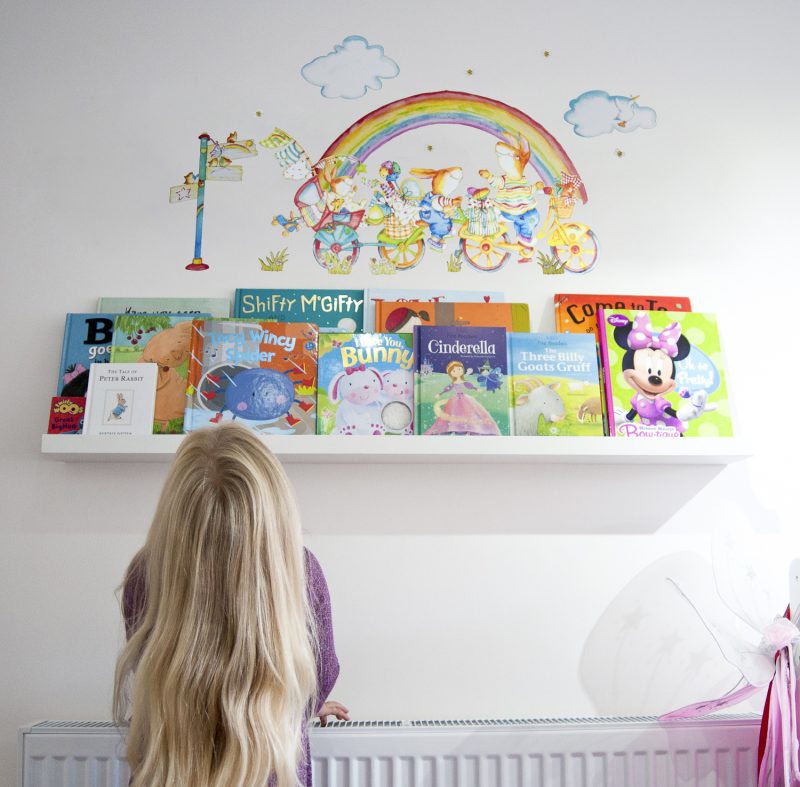 Rainbow bike wall sticker Designed by Emma Vallis, this Rainbow bike wall sticker gives a lovely bold and bright finish to a little girl's bedroom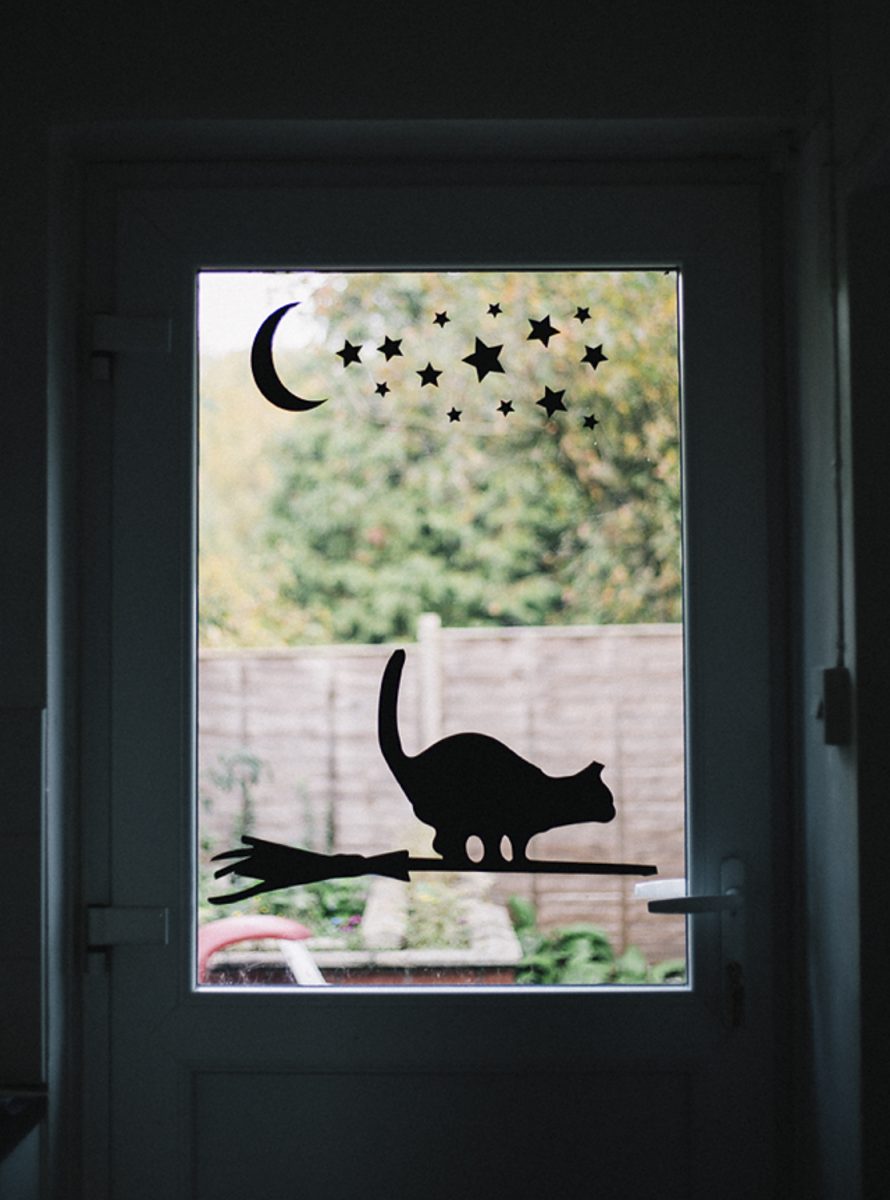 Halloween wall stickers This cat on a broom stick graphic is perfect to apply to a wall or window ready for the Halloween season!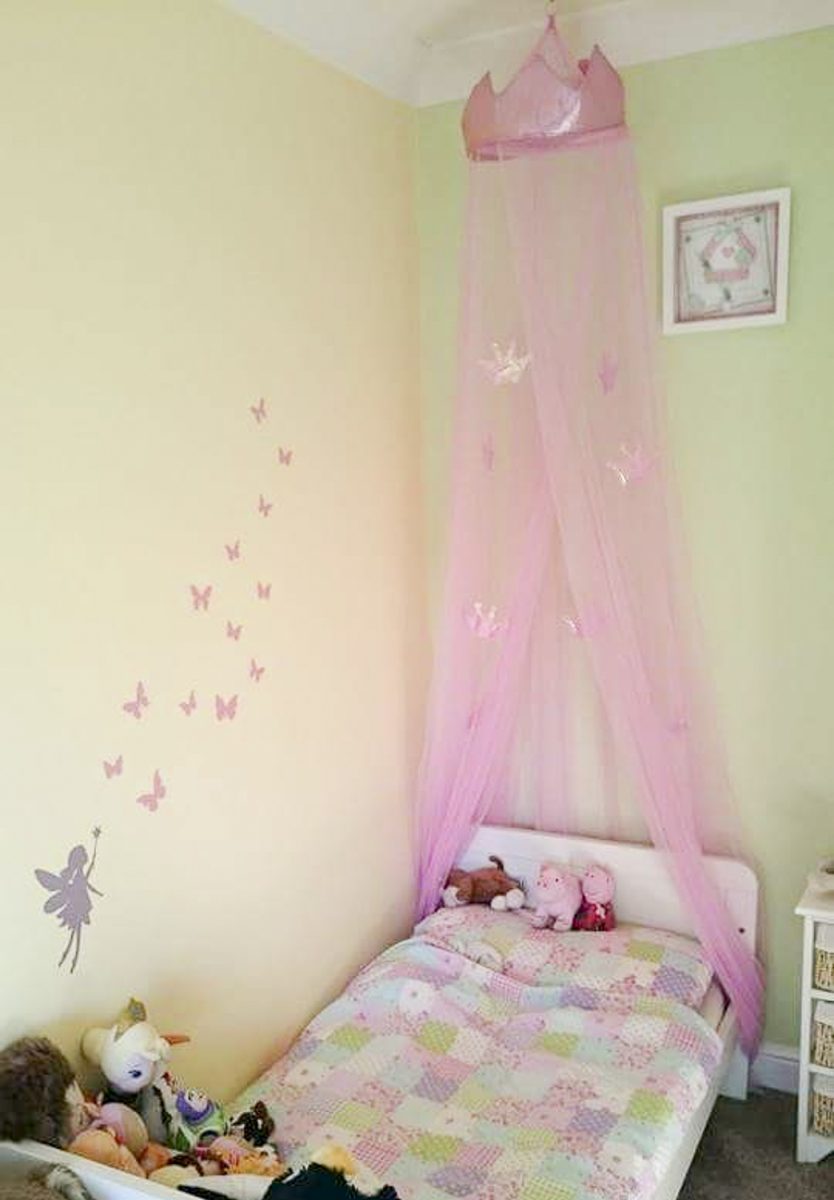 Fairy and butterflies wall sticker Perfect finishing touch for a girly fairy themed room - our Fairy and Butterfly wall sticker pack