There is a well-known misconception that "it will never to happen to me".
We all want to believe that we will live in these happy marriages with our wonderful children, that we'll grow old and see them get married and have children themselves.  That's how it should be. I thought it would be for us.
I met my husband, married not long after and our first planned pregnancy happened and our gorgeous daughter Millie soon came along and we were so in love with her, our new family life and how she made us feel.
We watched her laugh, cry, grow, smile and develop her stunning little personality, she was fast becoming her own little person and we loved watching this amazing little girl learn and discover something new every day.
Then we lost her.
Nine months. That's all we got and she was gone.
No warning, no illness, just suddenly taken.
Millie was only in nursery for 3 days when she choked on her lunch.
Ten days later, we buried our little girl; our world had been taken.
We didn't just lose our daughter; we lost our family life.
We no longer had our morning alarm clock daughter; we had no reason to get up anymore, we didn't want to be here anymore, we didn't want to live.
 Millie had become our world and our world was shattered in an instant. We couldn't function, not at work, not at home, not as human beings. I wasn't eating, I didn't have the energy to shower, I didn't cook, I didn't watch TV, I didn't' read… I literally stopped everything.
Both of us became reliant on anti-depressants and sleeping tablets, it was the only way that we could cope. Our lives become one big circle of crying, visiting Millie's resting place and sleeping, nothing else mattered – apart from making sure each of us was still here for the other.
Our marriage was in danger, according to statistics 80% of marriages fail after the loss of a child – we didn't want to become part of that figure, we worked so hard not to become part of that figure, but it was extremely hard. Both of us could have easily walked away at any point, but we stood by one another, dealt with the arguments, the guilt, the pain and 5 years later we are through the worst of it.
A large part of my time after losing Millie I spent wondering if I ever wanted to have another child again, could I risk ever having to go through this pain if it happened all over again? I decided not. I didn't want to have another child.
Not long after I had made that decision, we travelled half way across the world to New Zealand to meet another family who had tragically lost their son in a very similar incident in a nursery; they had since gone on to have another child.
Meeting this family completely changed my mindset, if they could do it, why couldn't I?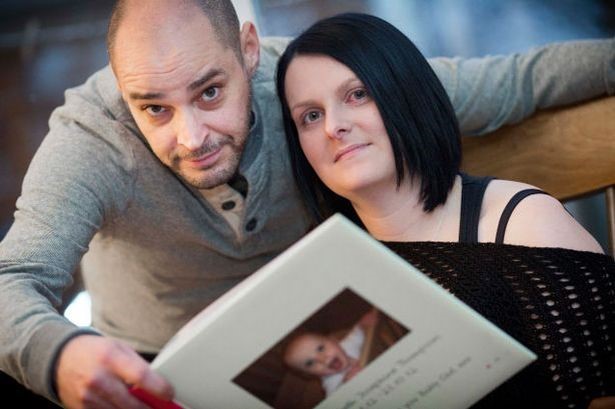 Just over 12 months later, our Rainbow Baby Leo arrived late one evening. During my pregnancy with him, I really struggled to bond with him, I couldn't even bring myself to look at his scan photographs for a long time, I just needed to hold him, to hear him cry and when he did, that first time – the relief was emancipating, it's the only way to describe it.
Our Rainbow baby brought back our family life. He brought back our smiles, he brought back our laughter and he brought back our lives.  We will be forever in his debt for that. He is obviously far too young to understand what he has done for us – but he will one day.
Is that the end of our "it will never happen to me"
Sadly not, just over 2 years later – we sadly suffered a missed miscarriage around the 12-week mark. After struggling so much bonding with Leo in my pregnancy with him, I felt a little more relaxed with this pregnancy. I felt as though everything would be fine, nothing could go wrong again could it? We had been through so much with Millie that losing a baby couldn't happen to us again could it?  I was so angry when I miscarried, what had we done to deserve this?  Again.
But it did, yet again we became another statistic, this time in the national miscarriage figures. 
We gave our miscarried baby a name. There's only Dan and I know that special name, we couldn't not do this – it felt as though it was a mark of respect; a mark of existence for our child.
This time though, I wanted, I needed to be pregnant again. We tried as soon as we could and I am now 8 and half months pregnant about to have another little boy.
Our journey has been horrendous but our rainbow babies have slowly pieced our family back together. There will always be pieces forever missing, our hearts will huge gaps but the stitching is helping.
We have never "gotten over" losing Millie or our miscarried baby – people are extremely wrong for saying this will happen especially when they have absolutely no experience and it's normally those people that like to offer their opinion.
You learn to live with what has happened – that's the only way to put it.
Love Joanne,
Forever a mum of 4, not just the 2 that you will see me holding hands with
xxx
Copyright: Joanne Thompson
Website: www.samepersondifferentme.com
Twitter & Intstagram: @millieleosmum
Facebook. www.facebook.com/samepersondifferentme