Woodland Scandi night sky kids bedroom
Decorating a child's bedroom can be such fun – whether it's the excitement of putting together a nursery or a shared design experience with an older child. However, finding inspiration to think of themes, colours etc. can be really difficult. We thought we would therefore share one of our most popular wall stickers pack, with some extra inspiration on how to accessorise your nursery or bedroom.
Our woodland night sky sticker pack is one of our most popular packs. It can be styled in so many ways to suit different rooms. From light and airy nurseries to dark night sky bedrooms. In terms of styling, it is soft enough to look at home in a baby's room, but with the constellation names, full moon and silver birch detail you can decorate knowing this isn't a look they will grow out of quickly. The pack contains two silver birch trees, our regular moon, a sitting bear and 3 star constellations.
Recently, the sticker pack has been updated and it can be purchased with either the bear facing right or left.
Transform your room with our add-on packs
Due to popular demand, we have created some additional woodland night sky add-on packs. These can be purchased on their own as accents, or to increase the original sticker pack size. We have various packs to choose from including; two birch trees, a regular moon, 3 additional constellations, a sitting bear facing either left or right and extra stars.
The most popular items are the additional constellations and stars. These are great for filling a large wall as they can be dotted around to take up more space and add more depth, or to place above pieces of furniture to continue the theme. They have a watercolour effect and match the stars found in the original pack.
Use our mood board for extra inspiration
To help you start your woodland themed room, or just to give you some additional items to include, we have put together a little mood board of items. We have searched the web and found some lovely small businesses which sell extra accessory items such as a door sign, bedding, lighting and other decorative accessories.
When looking for inspiration, we noticed that using painted mountain landscapes within a nursery or toddler's bedroom to create a Scandi woodland feel is really popular. We absolutely love this idea of adding some dimension to the wall with simple block shapes. There are a range of approaches you can take to include something like this in your room. We've included a link below to a blog from Carrie who helps explain how you can DIY mountainscapes on your wall using masking tape – well worth a read!
Our dark constellations roller blind will also look great with this sticker pack as it will tie in with the constellation stickers. We also offer a just star roller blind too which would add a little colour if you wanted to add more vibrancy to your design.
New to our home range we have storage trugs! Trugs are so handy to chuck toys and blankets in to keep things tidy. We sell them with a variety of designs, including our forest bear. This can also be personalised with a name to give the room a personal touch.
The items featured in our mood board have come from the below shops:
Roller blind – Stickerscape, dark constellations
Trug storage – Stickerscape, bear trug
Door sign – LittleHootieDesigns (Etsy)
Hanging mobile – LawendowyDomek (Etsy)
Macrame wall hanging – ElegantDreamHouse (Etsy)
Pompom garland – BradyAndBlue (Etsy)
Mountain painting – Carrie 
Clock – HunterandLola (Etsy)
Stacking décor items – FoxandPineUK (Etsy)
Plant pot – IndyandElle (Etsy)
Duvet set – Next
Lampshade – CoastalShadesUK (Etsy)
How our customers have used this pack
We really love seeing your room creations with our wall stickers and we have included a few rooms below which we fell in love with. We think all of these examples look absolutely wonderful and have really transformed their spaces.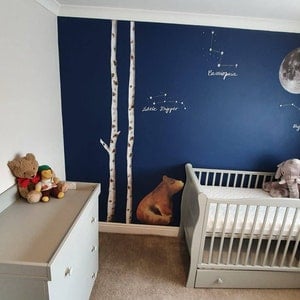 Tasha K
⭐⭐⭐⭐⭐
Great quality, fast delivery and easy to apply! So happy with how they turned out 😁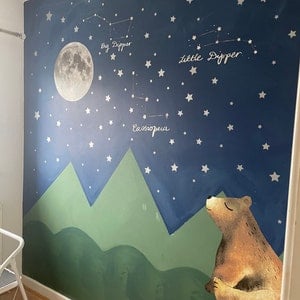 Natalie
⭐⭐⭐⭐⭐
Loved them! Quick delivery, beautiful quality and easy to put up! Look lovely my baby boy's nursery.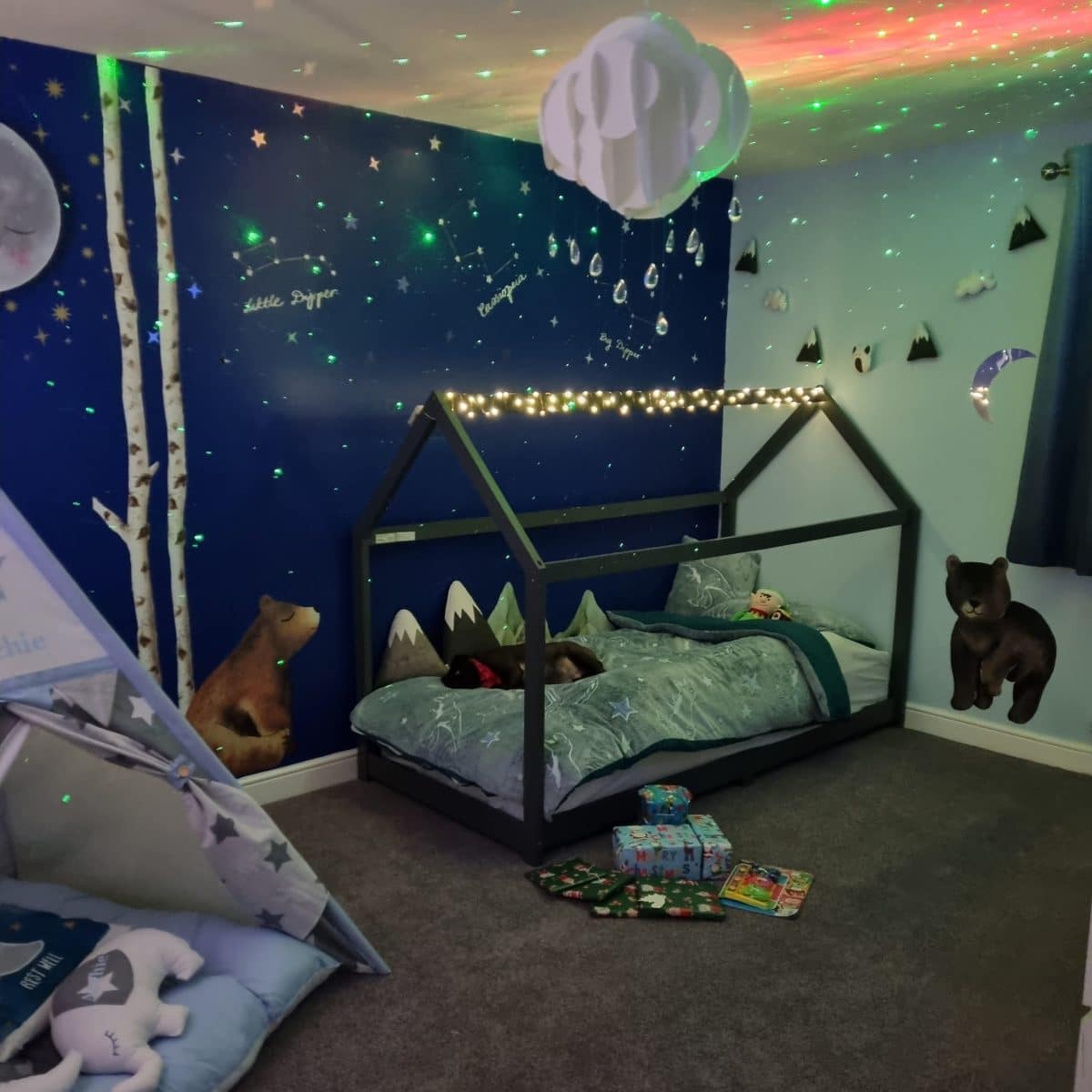 Hannah
⭐⭐⭐⭐⭐
Our toddler is autistic and so for Xmas we made him a whole new sensory bedroom. Stickers look amazing and I've had lots of people asking where they're from.