Top 10 Ideas for Teacher Gifts
With the end of term fast approaching, picking out teacher gifts is rapidly racing up many parents' to-do lists. Teachers work so hard all year (home schooling certainly reminded us all about that!) and it's lovely to take a moment to show appreciation for all they do. Teacher gifts don't need to be flashy or expensive, often personal or handmade teacher gifts are the most special of all. Splitting costs by organising a class gift for the teacher (or simply a gift from a few friends) is a great option, especially if there are teaching assistants to also buy gifts for.
Here are our top 10 teacher gift ideas to give you some inspiration – all tried and tested by us!
Teacher gift idea #1: Personalised notebook
It's lovely to give your teacher a gift that's both thoughtful and practical, which is why our personalised notebooks are such popular choices. Our bestsellers include the butterfly, rainbow heart and world domination designs, but you can also find loads more options online here.
Teacher gift idea #2: Cream tea hamper
This has been one of my favourite teacher gifts to give over the years, and it can be tailored really easily to suit your budget and preferences. I typically make the scones with my child the day before (BBC Good Food have an excellent recipe, which is quick and easy), and then put them in a cellophane bag, tied with a little ribbon. I would then buy a small tub of clotted cream, a pot of jam and if budget allows, I've also added a mini bottle of prosecco or a small packet of choccies too. You can then vary the 'hamper' you put it all into – the kids could cover and decorate a shoebox, you can use a wicker basket, or you can buy a personalised bag like this one!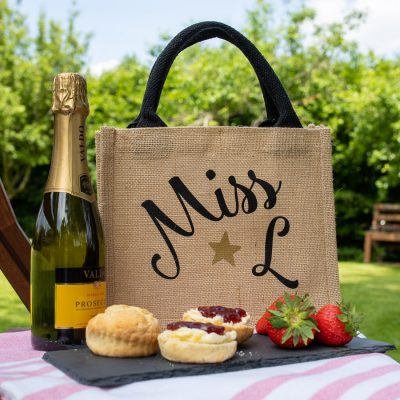 Teacher gift idea #3: A personalised book bag
One of our most popular teacher gifts here at Stickerscape is our personalised book bag. A strong canvas bag, it's a really practical gift that your teacher can get lots of use out of, whilst still feeling like a personal gift. For all the music / dance / swim teachers, we have you covered too with options available for all of these as well.
Teacher gift idea #4: A handpainted mug
This is a lovely teacher gift option for a younger child, perhaps for their first teacher or even for a special key worker at a nursery or pre-school. You can intervene as much or little as you'd like (or as you think the teacher would like!) as they create their masterpiece at one of the many ceramics café's now starting to reopen for business all over the place. Some venues also offer a 'paint at home' option if you'd prefer to remain offsite. Definitely a 10/10 and gold star for effort!
Teacher gift idea #5: Essential Teacher Stuff bag (with or without biscuits!)
Another bestseller, our 'Essential Teacher Stuff' bag comes in a choice of four colourways, and is perfect either gifted on its own, or perhaps with some biscuits included (shop bought or homemade, we're sure your teacher wouldn't mind!).
Teacher gift idea #6: A plant
We love the idea of giving a plant as a teacher gift – it's a practical present that most teachers would be really happy to receive, and your child can always personalise with a 'thank you for helping me grow' tag, or even by decorating the pot! There is a small company local to us in Basingstoke who specialise in all different types of plants – we recommend checking them out: https://arborealclub.co.uk/.
Teacher gift idea #7: A personalised lunch bag
Give your teacher a gift they can enjoy everyday with a personalised lunch bag. Available in a variety of colours, these little jute bags are strong enough to carry all their lunch essentials – and they won't be in danger of losing it in the staff room! This teacher gift is perfect wrapped up just as it is, but if you have the budget you could even fill it up with some delicious goodies.
Teacher gift idea #8: Wine!
When I ask friends who are teachers what to get for teacher gifts, a common answer that seems to come back is wine! You really can't go wrong with a bottle of something – be it gin, fizz, wine or something non-alcoholic and fruity… but if you're looking for something a bit different, try popping your bottle in this fun 'Teacher fuel' wine bag – guaranteed to make them giggle on the last day of term!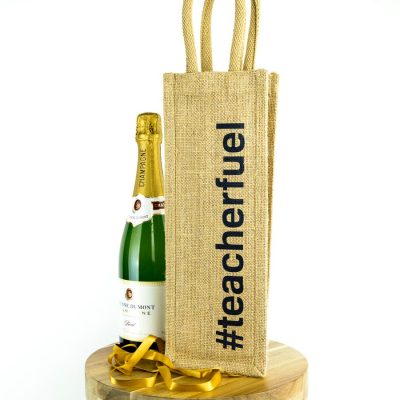 Teacher gift idea #9: A personalised pencil case
Another bestselling teacher gift here at Stickerscape are our personalised pencil cases (which incidentally are really handy as little make-up bags too if your teacher already has a favourite pencil case!). We've heard of customers popping a £5 Costa gift card inside too if you want to be super kind to your child's teacher.
Teacher gift idea #10: A handmade card
You don't need to have a big budget to make a teacher feel appreciated this summer. A simple homemade card is often the best present of all – it shows thought and effort, and they are sure to love it.