Project Nursery: From Bump to Baby
Our Project series aims to give you a flurry of inspiration when decorating a nursery, kid's bedroom or brighten up a playroom. We can offer stylish baby room décor and themes; you can style an entire room with our nursery wall stickers or just add a few to add the finishing touches to room.
Before we set off on our Nursery wall stickers project – we would like to wish you a warm congratulations, a new baby is a magical time, from the moment you find out to the day you meet your baby.
So where to start I hear you cry! For ease find below a list (we all love a list!) of key areas to think about when decorating your nursery.

Colour – can help create an environment for your baby to blossom. Whether it's a warm lemon, a soothing grey, or fresh white – this will be the backdrop for your room. Please allow a three week drying period before applying wall stickers to a newly painted room
Theme – Open the gates to creativity. Bright and playful or calm and refined? Stickerscape can give you help with this, pop to our website

shop

and browse our themes
Nursery Furniture – Explore, you have many options for various budgets. Rich browns, Funky Red, Antique White
Bedding – Once you have a theme in place you will discover the huge Selection of mattresses, Waterproof, Breathable, Washable options! Then onto coordinated bottom sheets, sleep bags and blankets
Lights – Low lighting for the night feeds, kids love a nightlight, lampshades
Final Touches – Nursery wall wtickers, the walls are painted, the new furniture is built and in place…Time to kit out the room with nursery wall stickers

Accessories – Fluffy toys, Books, Essentials for the wardrobe, Nappies for the change table, Warm towels for the first bath, Mobile for over the cot, curtains and blinds
Let's explore the above list in a bit more detail and start by looking at themed wall stickers. The beauty with wall stickers is that you can add to any room at any time. If you would prefer not to add the wall stickers until the due date or wait to find out the sex of your baby, you can easily pop the nursery wall stickers on the walls whenever you desire.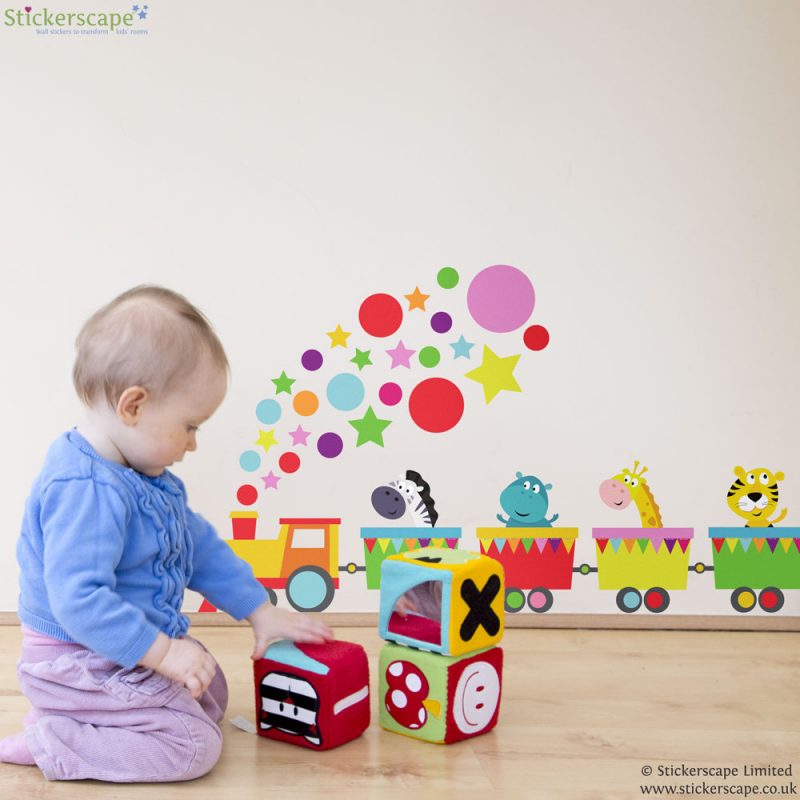 We offer an exciting selection of nursery wall stickers, the bright happy primary colours of the Jungle Train wall sticker  (Regular size is £18, Large is £27 and Extra large is £40), or bring the delights of the tropical Jungle forest into your room, offering a cute hippo and huggable tiger with bright yellow, greens and reds to work with. Cosatto sell a stunning red cot that can team up with Tobias and Bear Tiger bedding plus an Ikea Green bug wall lamp the nursery will already start to look like a Jungle environment. The smiley Giraffe mum and baby wall sticker set (Regular size £16.50, Large size £25) would bring a grin to any baby when positioned by the change unit. Simple statement wall stickers can bring the Jungle animals to life in your nursery room. A larger option would be Jungle watering hole wall stickers set (Regular size £20, Large £30), with 20 jungle wall stickers to position, featuring Harold the Hippo, Ringo the Rhino, Chris the Croc, Barney the blue bird and the charming jungle butterfly groupies, the whole design (in regular size) measures approximately 115 x 35cm, with the large size measuring a immense 230 x 70cm, a show stopper of a wall sticker! Every child loves a snuggly toy, to stay with the theme Jelly Cat offer a variety of soft toys, perhaps the soft blue Fuddlewuddle elephant or the Cordy Roy Croc can become part of the Jungle room and bring hours of cuddles and role play. Fisher price have a terrific mobile to hang above the cot, hit the green button to listen to the gentle jungle sounds, bring the wall stickers to life with the tropical jungle jingles.
Alphabet wall stickers
Let's discover the Alphabet wall stickers.. The Retro Alphabet wall sticker (Regular size £14) has individual letters that are approximately 10cm high whilst the large version (£22) contains individual letters that are approximately 15cm high (each of the letters are separate stickers). Educational and fun, these wall stickers offer a variety of colours to work from and a host of patterns to pick from. The separate letter wall stickers will give you flexibility to get creative with the application process and arrange the stickers in a variety of positions. In retro fashion you can clash fabrics and colours opening the flood gates to yellows, browns and oranges. Perhaps a purple statement walls to use as a backdrop for the letters. Sleeping options Mothercare's Bloomsbury cot bed in walnut with the neutral bedding set from Dunelm, and if you are feeling crafty a crochet blanket selecting colours from one of the Alphabet letters (we love the I, U and Z pattern!) would keep baby warm and bring a vintage vibe to the room. A dark wooden rocking chair and Tootsa Maginity Tapestry cushion for the night time feeds will add a touch of comfort and pleasure to the nursery. We can even bespoke and personalise using the retro alphabet and make up your child's name for an extra special finishing touch to the room. We love the old-fashioned feeling this alphabet brings, fisher price offers a variety of retro toys – remember the vintage music box record player and Two tune TV screen as a kid?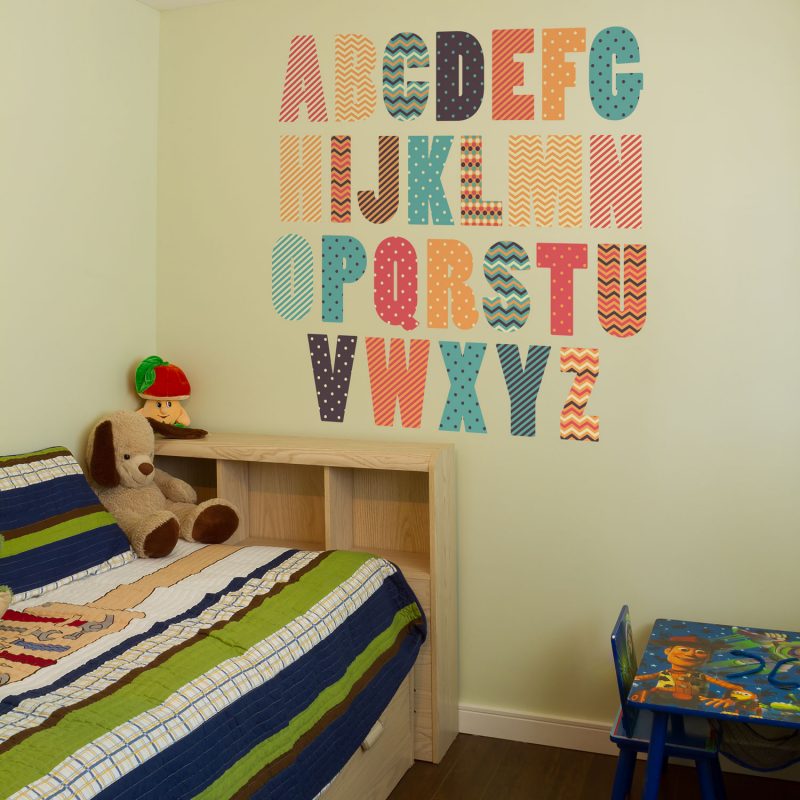 Other popular nursery wall stickers themes include:
… the options are open and endless!
So what you waiting for, go forth and indulge in the world of wall stickers, give your new son / daughter a room they will remember and enjoy for years to come!