Personalised wall stickers
Our personalised wall stickers range is probably one of our most popular, as they give that special touch to the sticker and are individual to each child. They really finish a room off perfectly, whilst making your little one feel extra special and important as their name is written on the wall! We have many different sticker designs, perfect for both boys and girls over a variety of ages and can be placed in a nursery, playroom or bedroom.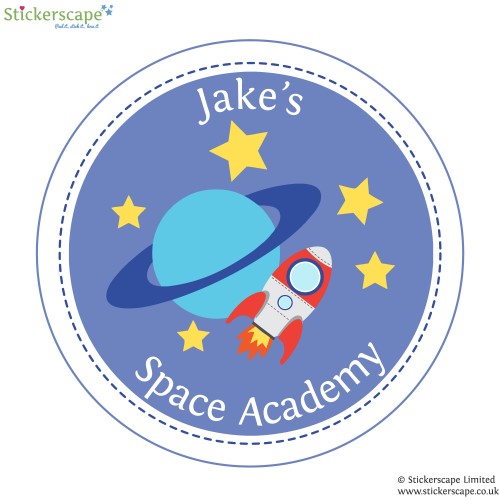 A firm favourite for little boys is our personalised space academy wall sticker! Once this wall sticker has been put in position, the space ship will be set to go and the space exploring adventures can then begin :). They will become official astronauts in training, and their games and imaginations will soar out of this world! The space academy wall sticker can be personalised with a name up to 12 characters and will give that finishing touch to the fun design. To add that extra wow factor, glow in the dark stars can even be added to the larger wall sticker! They are designed to dim after around 15 minutes of darkness so they are not distracting for sleep. Charged by light, the will recharge during the day, ready for the next evening!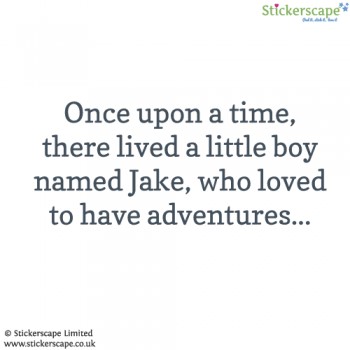 Quotes and writing are becoming increasingly popular to decorate your home and we think our personalised adventure wall sticker text would be the perfect addition to your little one's bedroom or playroom! Appealing to both boys and girls, this sticker is sure to offer inspiration for many bedtime stories, with your child being the star of course! The stickers come in 12 different shades, ranging from fuchsia pink to woodland green and coordinate perfectly with our classic wall sticker ranges, including our woodland range.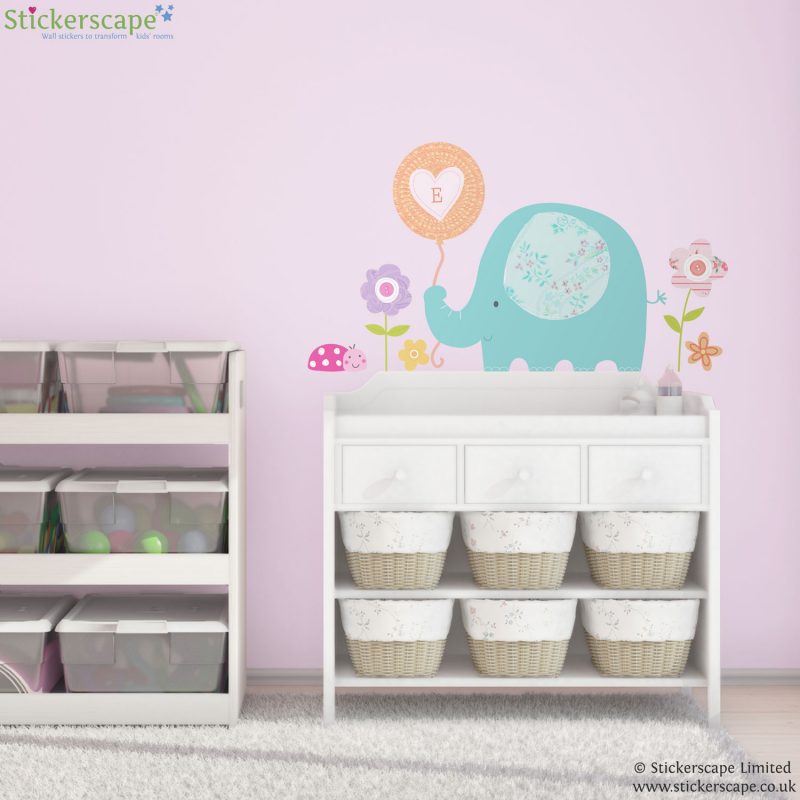 Finally, perhaps one of the sweetest and daintiest personalised wall stickers is the elephant and balloon wall sticker. I smile every time I look at it and it makes my heart melt! There is just something so cute about an elephant holding a personalised balloon with its trunk! The pastel shades and subtle pattern would look gorgeous in a baby's nursery, or even a child's bedroom. Simply having your child's initial printed on the balloon leaves a very delicate design, sure to bring many 'awws' to anyone who sees it. The design comes in two sizes, and the elephant, flowers and ladybird stickers are provided separately, giving you flexibility to position the scene which fits the space available.