Introducing the Emma Vallis wall sticker collection (with short story!)
One of our favourite collections here at Stickerscape is a collection designed and created by Emma Vallis. Emma is a local water colour artist and illustrator and creates beautiful whimsical images which we've created into a brand new wall sticker collection.
To help bring your wall art to life, we've written a short story so you can enjoy reading these charming stories to your family whilst your little ones drift off to sleep….
Once upon a time in the fresh green delights of middle Hampshire, over a big hill, down a windy pathway sits a large old grey bricked farm house. The farm house hosts the most stunning garden with every flower imaginable, tall white roses sit with bright happy sunflowers. Chicken shaped bushes run down the stone paved path to the bottom of the garden, here sits a rugged stream with the cutest arch shaped bridge. Over the bridge as far as the eye can see rest fields and fields of farm crops, hay bales stacked high to the sky, corn reaching for the sun nearly 3 meters high, perfectly straight lines of potatoes the twiggy white cotton crops sparkle in the mid-day sunshine.
Now, this farm is rather special, alongside the various Shetland ponies, Pygmy goats, Dexter cows and beautiful white Pekin ducks lives a fascinating colony of fluffy brown Angora rabbits, each one has an extra soft white spot under their chin. In the adjoining field you will find an assortment of friendly field mice, characteristically tiny with small rounded ears, petite and nimble with an ever growing family. They like nothing more than to scamper in the open fields.
Let us introduce you to Frankie, Luke and Baby Rae's rabbit family. First, give a big wave hello to Pickles, Popcorn, Milo and Freya who are turning mouse cartwheels with anticipation in meeting you!
Pickles and Popcorn are twin mice, born 4 minutes apart (the only way to tell them apart is that Pickles has slightly darker fur!). Mischievous, joyful and never without a smile, these two dormice are inseparable. The twins have spent the morning painting Nanna Lil's birthday card, and it's now ready to deliver. Popcorn has packed a punnet of strawberries for the hot air balloon journey, and she can't resist nibbling on a particularly juicy one as they set off! Up, up and away they go….shall we wave bye bye?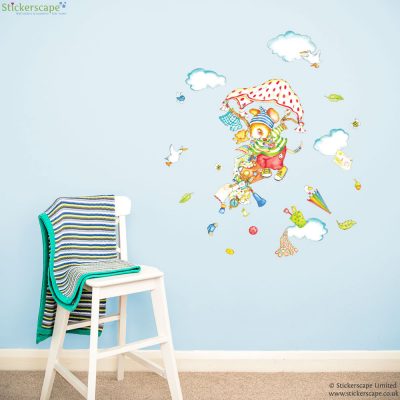 "Pack your suitcase Milo, we're off on an adventure!" calls Milo's dad to his little mouse. Milo scurries off into his room to pack, squealing with excitement…this is going to be the best day ever! "But what to pack, what to pack? I must take my favourite spotty blanket, and big teddy, definitely the bucket and spade, acorns in case we get hungry, my umbrella, and oh what else…?". Milo pulls on his bright yellow trainers (perfect for adventures!) and picks up the compass his great grandpa once owned. He was a famous explorer back in the day, and taught Milo's dad how to find the tastiest nuts, make the warmest bed and most important of all how to glide far into the sky with a soft spotty handkerchief.
Freya is a cheerful little mouse, with a mighty 90 brothers and sisters! She loves nothing more than whiling away a sunny afternoon in her dreamy bubble land, blowing bubbles and singing happy songs with her best friend Roberta, a red chested robin who is never seen without a crown of delicate flowers around her tiny head. As Freya drifts around on her bubble in the warm breeze, all the dragonflies, butterflies and bees come out to listen to their pretty singing; and together they enjoy a moment of tranquillity before Freya heads back to the nest for corn snacks with all her siblings.
Baby Frankie and big brother Luke are off on a family rabbit bike ride with their mumma. This happy family trio love a gentle bike ride, especially when a magical rainbow arch fills the sky with bright overlapping colours. Baby Frankie is at the back, and is chuckling at all the bits and pieces his big brother Luke has packed. Luke even manged to squish his favourite cuddly toy on his lap! Mum is leading the way, and calls back "uh-oh kids, hold on!" as a puff of wind blows off her hat! Off they whizz over the neighbouring hill, the beach is insight, tummies start to rumble at the thought of the scrummy picnic snacks.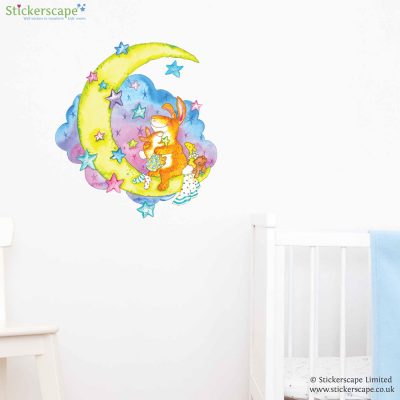 Big Yawns, the day is drawing to a close, the sky is turning from dreamy shades of light purples, pinks and pale yellows to dark blue greys. Baby Rae Rabbit just loves his bedtime. When the sky turns dark, Mr Moon beams down and the stars shine bright to give his Mummy enough light to read their favourite storybook. With all Baby Rae's special toys gathered near, there's just time for one last extra-squishy cuddle before sleepy time. "Wuv you" Rae whispers in his mummy's floppy ear, in a soft voice " love you more " mummy replies. With a gentle nose rub the pair snuggle down ready to dream the night away.
Evening is upon us, the busy farm has come to a standstill. The farm animals are tucked up bed on this warm summers night. Even the sunflowers have nodded off!
'till next time……
For information on artist Emma Vallis please click here



 Spotty Balloon Wall Sticker with Pickles and Popcorn (click

here

)

From £14.00

 Adventure Mouse Wall Sticker with Milo (click here)

From £15.00

 Bubble Mouse Wall Sticker (click here)

From £14.00
 Rainbow Bike Wall Sticker (click here)

From £15.00

 Moon Rabbit Wall Sticker (click here)

From £14.00