DIY Hot air balloon lampshade
As you may know by now, we love being creative and getting stuck into arts and crafts, whatever it may be! Homemade items bring that touch of individuality and warmth to your home, personalised to suit you and your family, however wonky or badly made they may be (don't worry, we won't judge!). We therefore wanted to share a gorgeous DIY hot air balloon lampshade design with you, it is both easy to make and looks great when put in place, glowing beautifully up in the air.
The hot air balloon lampshade would look perfect when accompanied with our hot air balloon wall stickers, as it really helps to create a stylish theme. As the lampshade is homemade, you can be flexible in the design and colours, making it one of a kind!
All you need is: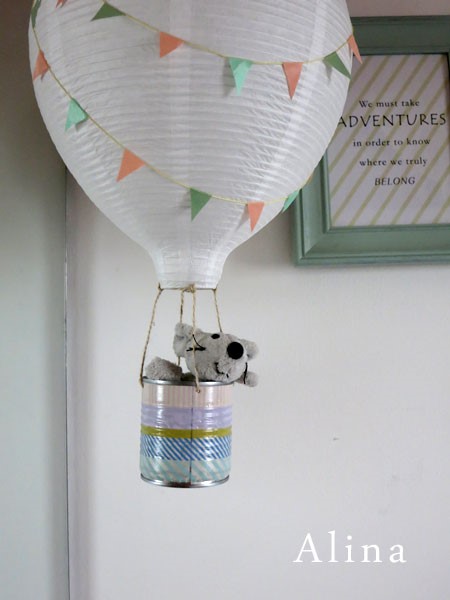 – A table lamp (IKEA)
– Coloured string x4 (approx 8cm each)
– Small tin can
– Washi tape
– Mini bunting
– Small soft toy
– Decoupage sheets, or patterned tissue paper (optional)
– Mod Podge glue (optional)
Start with this plain lamp from IKEA, its normal price is £8.50, but right now it is a bargain at just £6.50! It is originally meant as a table lamp but if you turn it upside down, voilà, you have the perfect hot air balloon shaped lamp in seconds!
Take your tin can and wrap some washi tape around it, ensuring you cover the bottom of the can too.
Carefully pierce four holes in the tin can ready for string to be attached to connect the 'basket' to the 'balloon'.
Pierce four holes into the bottom of the lamp and thread coloured string through it, ensuring you tie knots into the top of the string.
Attach the tin to the lamp by threading the string through the tin cans, again ensuring you knot it tightly once threaded.
Decorate the balloon with mini bunting, using glue to keep it in place.
Add a soft toy for that finishing touch!
If you would prefer to add a bit more detail to this design, why not cover every other hot air balloon panel with patterned decoupage sheets (available at Hobby Craft). Glue them down with Mod Podge (also available at Hobby Craft) and there you have it, a vintage style hot air balloon lampshade, just like our wall sticker designs!
The great thing with this idea is that you have the flexibility to use different colours and patterns to fit your room design at home. For example, by using bold colours (blues and oranges), it will suit little boy's room, and will also match our range of classic hot air balloon wall stickers!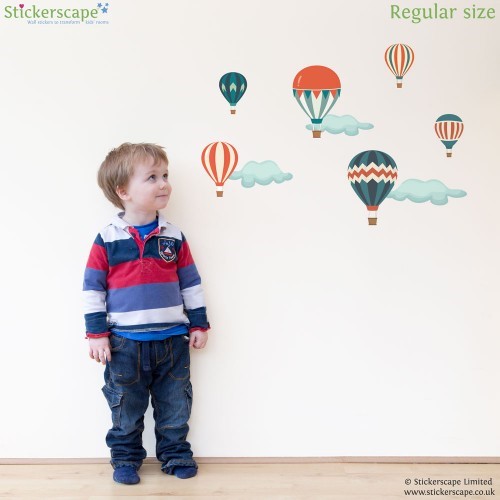 I hope this has inspired you to have a go at making your own hot air balloon lamp shade! Please feel free to share your finished lampshades with us, we would love to see them!
Sources:
https://alinakelo.wordpress.com/2013/10/29/magical-light/comment-page-1/


http://craftandcreativity.com/blog/2013/11/23/paperlanternhotairballoon/


Materials:
Lamp shade: http://www.ikea.com/gb/en/catalog/products/40162000/
Decoupage: http://www.hobbycraft.co.uk/first-edition-deco-mache-papers-blue-polka/584685-1009
Mod podge glue: http://www.hobbycraft.co.uk/mod-podge-glue–finish-gloss-59ml/602361-1000
Mini bunting: http://www.hobbycraft.co.uk/hobbycraft-mini-papercraft-triangle-bunting-pastel-30cm/597301-1000
Washi Tape: http://www.hobbycraft.co.uk/la-de-dah-washi-tape-rolls-2-pack-5m/604435-1000