Clock chalkboard wall sticker review
A Warm Welcome to Stickerscape, fellow Wall Sticker fans!
I know some of you are new to this page so a quick rundown of what we do.
Stickerscape is a fabulous wall sticker company based in Hampshire. We have various themes, the newest to our collection is the Chalkboard wall sticker range. Also 'In the Night Garden' is a firm fav (Igglepiggle – what a guy!) and I just love the Woodland Picket Fence border with the cute snail.
You can order via the Stickerscape website and Amazon or if you fancy something a bit more unique drop us an email to bespoke your order. If you ' like' & 'share' our Facebook page check out the 10% discount code.
Over the next few months keep your eyes peeled for competitions, giveaways, a few stories, ramblings, pretty pictures, guest blogs (please email me if you fancy this), pics of kids rooms (please email if you have a Stickerscape room), sticker reviews and new sticker ranges, and that's just the tip of the iceberg (or Stickerberg? ) …Phew…. It's going to be fun so let's jump aboard the Stickerscape Ship (bet you can't say that too fast!) and see where it takes us….
September is a busy month, kids return to school (or just starting, good luck little ones!). The nights start to draw in, clocks go back in a few weeks, tick tock tick tock ~ I feel change is in air, so I thought a perfect opportunity to discuss the Chalk Clock with you all.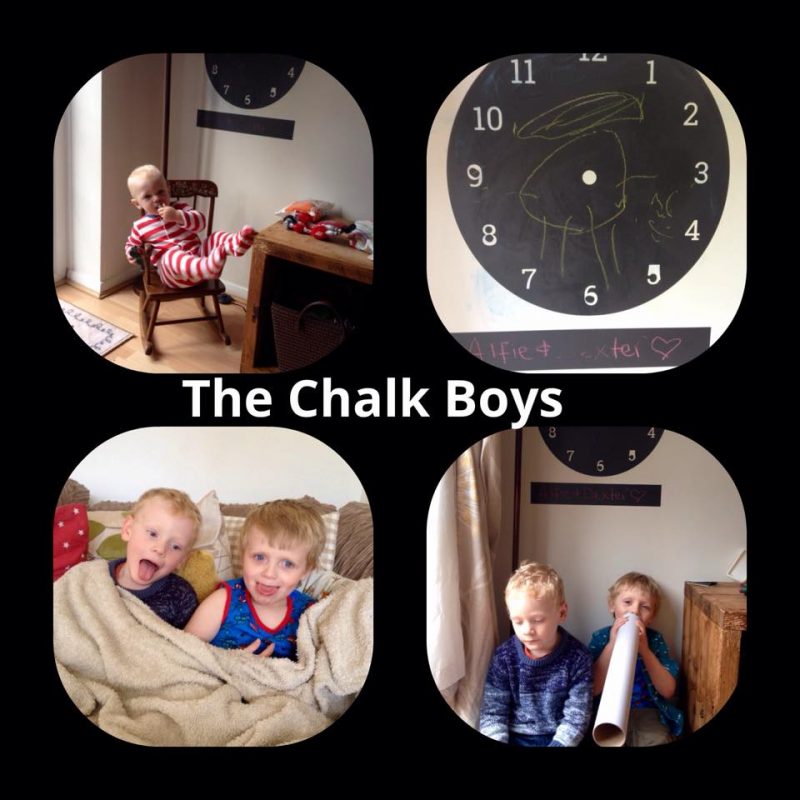 I recruited my sons BFF to join the review panel (thank you Alfie-Ray) so that's x3 boys (ages 4, 3, and 1).
Reviews
Alfie (age 4) What time is it tomorrow? (big question for a little guy)
Dexter (age 3) 1, 2, 3, 4, 5, 6, 7, 8, 9, 10, 11, 12 o'clock
Stanley (age 1) High pitched squeals of delight when the older boys shouted out '3 o'clock'
It's an awesome design and perfect for the little people. Happy faces learning, lots of giggles telling Mr (mummy) Wolf the time.
*tip, baby wipes are THE best to wipe the chalk and surrounding areas clean.
Have you purchased from our Chalkboard range? Please drop me an email if so, we would love to see your pics!
Touch base soon peeps, I have a wee Autumn competition in the pipeline, also Halloween is just around the corner, I've started a draft Pinterest board I can't wait to share – love a sticky spooky cake
If you'd like to get in touch then please feel free to drop us an e-mail via this link 🙂
Follow us on
Facebook: facebook.com/Stickerscape
Twitter: @Stickerscape
Pinterest: pinterest.com/Stickerscape
Instagram: instagram.com/Stickerscape