Are your little ones mad about The Gruffalo? I know our two children went about 3 months where they would want The Gruffalo read for every bedtime story! And then The Gruffalo's Child came along and they absolutely loved that as well and became another firm favourite. The stories are great fun and wonderfully written by Julia Donaldson.
If your children are anything like this then you might consider creating a Gruffalo themed bedroom, playroom, or even a little reading corner. Our team has therefore had a think and come up with our top tips on creating a Gruffalo themed bedroom if your children are Gruffalo obsessed!
Gruffalo Bedding
For many of us, the starting point for creating a themed bedroom is the bedding. Fortunately, if you're interested in creating a Gruffalo themed room there are some excellent Gruffalo bedding options available. The two shown below are available from John Lewis and Character.com respectively, and we think are a great starting point to any Gruffalo themed bedroom.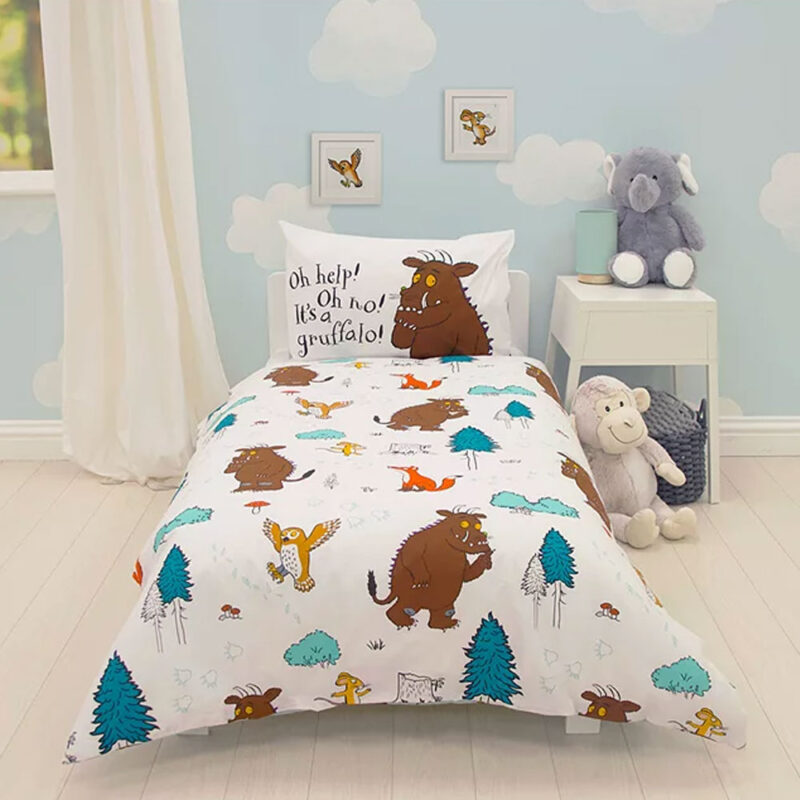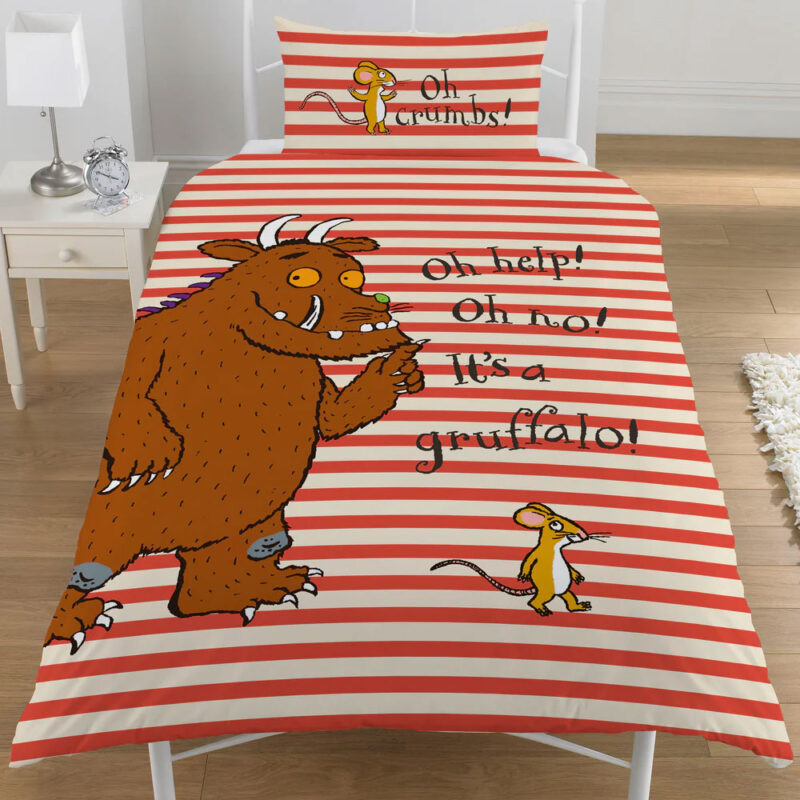 Gruffalo Wall Decor
Of course, we also think adding Gruffalo wall stickers are a great way to accessorise your room with a Gruffalo theme. Our Gruffalo wall stickers are available in a variety of sizes, including personalised options. This makes them perfect for not only decorating a bedroom, but also a playroom or even just a reading corner. Our team have selected their personal favourites from our collection – which is your favourite from the options below?
Personalised Gruffalo cushions
Another great addition to a Gruffalo themed room are these fantastic personalised Gruffalo cushions available at The Gruffalo Shop. These are all made to order in the UK and are made from soft-touch faux suede fabric and feel fantastic. It's also lovely to add something truly unique and personalised to your little one's bedroom, playroom or reading nook.
There are also five different designs available with a different colour scheme in each. So you can find something that will truly match your wider room's colour scheme.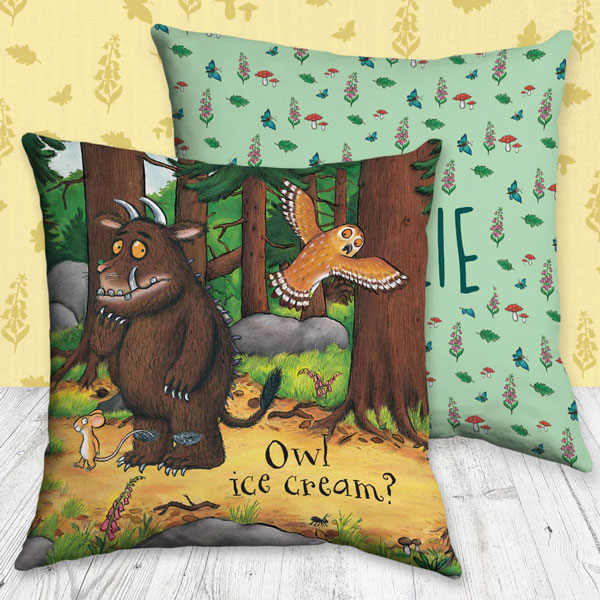 Gruffalo Window Stickers
Lastly, but by no means least, you can also accessorise your room with some Gruffalo Window Stickers. These are a great economical way to add a little nod to The Gruffalo if you want to theme your room in a subtle way. Our absolute favourite is where The Gruffalo is just peering in through the window and we're sure your child will absolutely love this one.
However, you could also opt for some of the large Gruffalo window sticker designs if you've created a reading nook in a recessed window. Remember all our window stickers are cleanly removable, repositionable and reusable, so if you have a move around in the future you can always give them a new home! Our team have included our absolute favourites below.
That's all! We would absolutely to see any Gruffalo inspired rooms you decide to create. Please feel free to share them with us via social media (@Stickerscape) – our team love seeing them and the best examples can appear on our customer photos library.