Our Guess How Much I Love you wall sticker collection is the perfect starting point for any new nursery. We have lots of different designs to choose from, from stickaround packs that you can fill a wall with, to larger statement wall stickers – we're sure there will be something to suit your space for your little one.
For anyone unfamiliar with the Guess How Much I Love You books, the story is written by Sam McBratney and beautifully illustrated by Anita Jeram. The tale is of Nutbrown Hares trying to find a way to explain I Love You, with little sayings like "I love you as high as I can hop". Big Nutbrown Hare then goes on to make a declaration to Little Nutbrown Hare "I love you right to the moon – and back" which has led to the story becoming a way to say "I love you" all around the world.
It's hard to pick a favourite from this collection of wall stickers, however, we do love the Pastel Hares sticker pack. This is great for filling a wall in a pattern, or dotting around the room in different places. The pack comes with pastel pink and mint accessory stickers, classic neutral colours for a nursery, to brighten up the wall and add a feature colour to the room. If you're looking to create a Guess How Much I Love You themed nursery, we've collated a number of different items you could accessory your nursery with. We hope these provide you with some inspiration!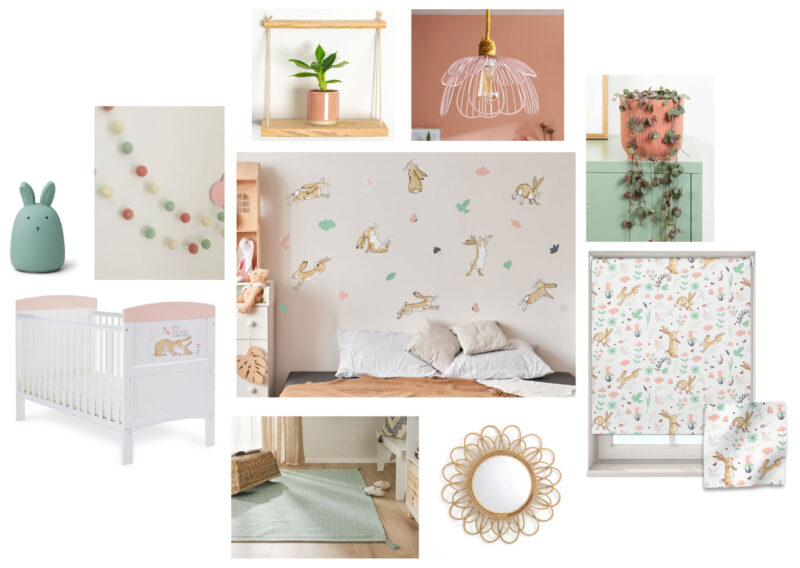 We created a matching Guess How Much I Love You roller blind for this wall sticker pack with little hares jumping around with pastel pink and mint flowers, leaves and critters. We keep a theme of pink and mint running through the room with a mint rug, child-safe plants and a cute pompom garland. We also bring in the additional use of natural brown materials to match the hares. Obaby's crib matches the sticker pack perfectly, with Little Nutbrown Hare and Big Nutbrown Hare looking at each other.
We hope this mood board provides you with some inspiration for your own nursery. If you've been inspired with your own nursery, we would love to see how you've decorated your room with this theme! Tag us on Instagram @stickerscape with your rooms to be featured on our stories and blogs.