SwimFin is the Number One innovative swimming aid the the only aid endorsed by the ASA (Amateur Swimming Association- the swimming governing body). We thought you might like to know a few more details about SwimFin as you prepare for a Summer of splash-tastic fun. Let's dive right in!
1. SwimFin was developed by a swimming instructor, Kevin Moseley, with over 25 years of experience. The SwimFin has been subjected to extensive testing to ensure that it conforms to international safety standards.
2. SwimFin works on all 4 swimming strokes- front crawl, breast stroke, butterfly AND backstroke! The SwimFin helps to develop a better swimming position in the water and allows arms and legs to be free which significantly speeds up the learning process.
3. SwimFin is ready to go immediately! You never have to inflate or deflate it. SwimFin is self-adjusting and is easy to put on and take off. Kids can't resist trying one on as well.
4. SwimFin makes learning to swim fun, but even after it has done its job as a learning aid, it will always find use as a water toy, strengthening ability and building confidence. The lower you are in the water, the more support the SwimFin provides as would be the case with a beginner. The higher you are in the water, the less support it gives as would be the case with an improving swimmer.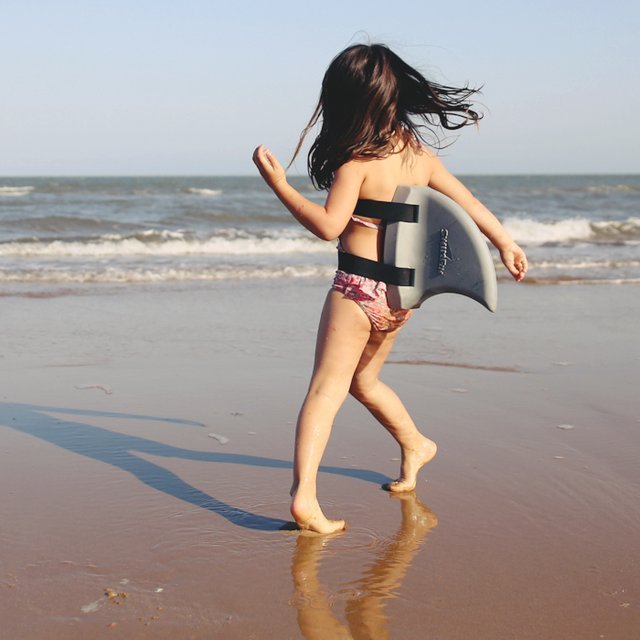 5. SwimFin does not 'tip' the swimmer. Its innovative design provides as much buoyancy as the swimmer needs yet does not restrict the ability to move in the water and helps maintain a good position at all times.
6. SwimFin is designed for use from 18 months and up and makes learning to swim fun for any age, size and ability.
7. SwimFin is unique in every way. Getting kids down to the pool or into the water suddenly becomes a pleasure and not a chore. Kids want to strap on their fin and jump in with their friends and family.
8. SwimFin can also be used by adults learning to swim (larger straps are available) and individuals with special needs.
9. SwimFin is a brilliant swim aid but we always recommend that you NEVER leave your child unsupervised in the water. Always have a competent supervisor to watch your children at all times.
10. SwimFin is perfect as a unique gift or for taking on holiday as the fin is highly visible in a busy pool or on the beach.
So what are you waiting for? Pop on over to our SwimFin Shop

to view our EIGHT GREAT COLOURS and choose one for your little Shark! Get your fin on in time for the Summer Holidays! BE THE SHARK!