As our fairy princess wall stickers are some of our best sellers, we thought it might be helpful to share some ideas of how these girly stickers could work in a bedroom, playroom or nursery. I've created a fairy princess themed room mood board which includes a selection of our fairy princess wall stickers, and is of course pretty in pink! These wall sticker designs will transform your little princess' room and will allow her imagination (and yours of course) to run wild, into the magical world of fairytales and make believe.
Creating this room design gave me the excuse to reminisce on my own childhood; the hours spent playing princesses in my room, transforming it to a land far, far away, with fairies, ponies, castles, and even the compulsory 'baddie'! These fairy princess wall stickers create gorgeous children's wall murals, and offer inspiration for your little girl to delve into her next fairytale adventure, just like my three or four year old self. Tinker Bell and Peter Pan springs to mind, however right now I am sure most girls will be basing their stories and games on Frozen, imagining themselves as Princess Elsa or Princess Anna (just for the for the record, I would be Princess Anna!).
One of the most popular designs from the fairy princess wall stickers range is the quote "fairy dust and cuddles are magic, they can fix anything" which we think would fit really well in a fairy themed nursery or bedroom, and in our view, pretty much sums up what life should be like when you're little 🙂  I also have a particular soft spot for the dainty butterfly stickers incorporated into the designs, they're so cute and enhance the soft and pretty feel portrayed within the whole fairy wall stickers range (so maybe it's not too surprising that lots of adults tell us they buy these ones for themselves!).
I hope this goes to show how easy it is use our wall stickers to totally transform your child's room, and gives you some inspiration for other 'shopping list' accessories to create a complete fairy princess themed bedroom. Stickerscape wall stickers are also all cleanly removable, so when your little girl is finally too old for a princess themed bedroom *sobs*, they can be easily removed with no messy residue left behind!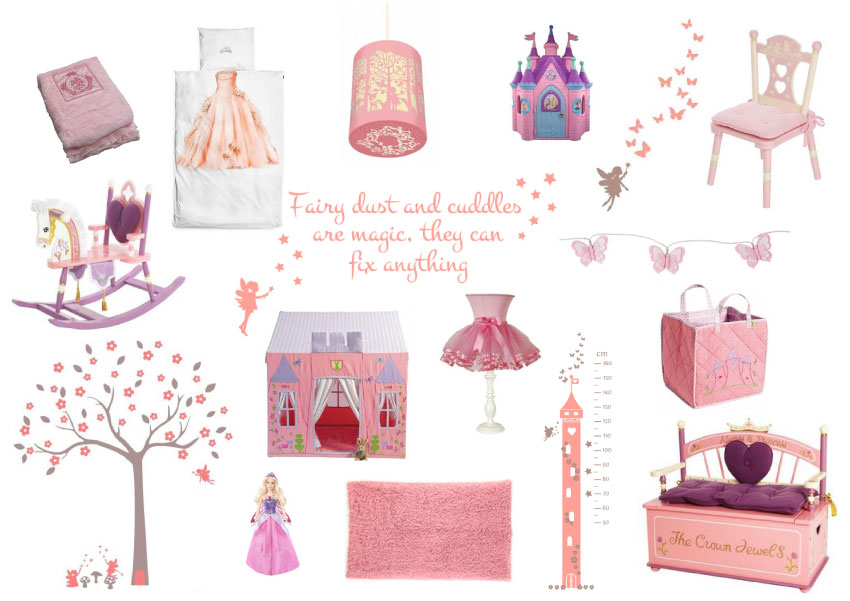 Shopping list of pictured items:
Fairy dust and cuddles wall stickers: Stickerscape from £15.00 (available here)
Fairy and butterfly wall stickers: Stickerscape from £5.00 (available here)
Fairy princess height chart: Stickerscape £22.50 (available here)
Fairy tree wall sticker: Stickerscape £40.00 (available here)
Duvet set: John Lewis £49.99.
Princess Toy Bag: Win Green £40.00.
Princess Playhouse: Win Green £200.00.
Rocking Horse: Overstock £130.05.
Princess Toy box: Houzz $199.95.
Lamp shade: Becky and lolo £11.99. 
Blanket: Disney Baby.
Princess doll: Amazon £13.57. 
Fairy lights: Laura Ashley £17.50. 
Pink rug: The Rug House £14.99. 
Table lamp: Conns $99.00.
Chair: A  Pink Princess $79.99.