Easter holiday lockdown ideas
…some ideas for entertaining the children at home this Easter holiday
This Easter will certainly be different to any that we have known before. It is likely to be an Easter that our children talk to their grandkids about when they are old, and an Easter that future generations hear about in their history lessons.
For those wonderful key workers and people on the front line, I have no doubt it must be one of the toughest times they've ever faced. Their bravery is totally humbling, and we owe so much to them. For the rest of us, our homes and immediate family unit represent our entire world more than ever before, as we follow the advice and stay home to keep everyone safe.
With small children in the house, and now two weeks without homeschooling to worry about (hooray!), days will be spent trying to create normality and special memories for them, and we've put together some Easter lockdown ideas that you might want to try out at home. Kids are thrilled by the simplest of things, and the younger ones especially will hopefully just remember this season as a fun period of all spending loads of family time together. Try not to worry about perfection – now more than ever, nobody is (quite literally!) going to know or care if the kids (or you) wear pyjamas all day, if they watch a bit too much TV (how much is 'too much' really anyway?!) or if you only eat chocolate eggs for lunch one day (right now they seem much easier to come by than pasta anyway – a sign if ever there was one 😉).
Easter lockdown idea no 1: Painting stones
This was a real winner in our house at the weekend. It kept the kids entertained for ages, working largely independently, so mummy could even get on with some jobs! It really helps if the sun is shining and you have some outside space, so you can be a bit less precious about the mess (incidentally, the only one to get covered in paint was me… good job I'm hardly wearing 'best' clothes these days!). We made it last longer by doing it in a few stages…
Step 1 – find some good stones in the garden. Nice rounded pebbles are ideal, but to be honest, anything would work and you could just use your imagination with odd-shaped stones to come up with exciting possibilities. This stage in our house involved the kids repeatedly scuttling backwards and forwards presenting new options to me, many of which were (lovingly!) dismissed to allow me plenty of time to do the washing up, put a load of laundry on and check my emails 😉 You could also go looking for stones whilst out and about on your 'daily exercise' walk.
Step 2 – the children enjoyed washing the stones with a scrubbing brush and a bowl of warm soapy water in the garden.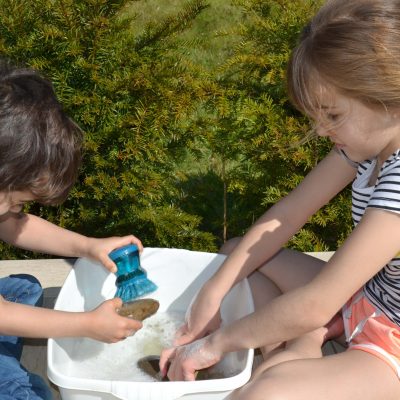 Step 3 – painting! We used acrylic paints and permanent markers to create Easter eggs and little chicks. We're putting ours indoors, but if you're planning on leaving them in the garden, an exterior-grade varnish would be a good idea to finish them.
Easter lockdown idea no 2: Making Easter cookies
Making cookies is always fun, and this time we particularly enjoyed trying to work out how to make a bunny 'hug' a mini egg in some of ours (we tried using a gingerbread man cutter upside down, then splitting his head in two to form the legs). I think our shape needs a bit of work still (given that they don't look much like bunnies holding eggs!) but baking the mini eggs on the cookies worked surprisingly well so I'm sure we'll be trying it again 😊
I have a bit of a cookie cutter collection (not something I admit too often!) so we had a selection of Easter shapes, but if you didn't you could very easily create Easter egg shaped biscuits by using a small cup to create a circle, then repositioning to slice each side off to get an eggy-shape. Or, you know, use Christmas cutters because really nobody cares – they still taste just as yummy! Now all you need to do is find a shop still stocking flour…
Easter lockdown idea no. 3: Make an Easter garland
Technically, this one is a bit of a cheat for me, as I actually made this about 6 years ago when my eldest was teeny, but I did hang it up this weekend – and as it doesn't require too much in the way of supplies, it seemed worth including as you may well have all the bits at home to put it together. We used those plastic Easter eggs you have for egg hunts and added felt wings and ears with hot glue. If you want to really go all-out, stick a bit of cotton wool onto the bunnies' bottoms as well! Then we drew on little faces with permanent markers and stuck them onto ricrac (string would work just as well though). Super cute and every year this makes me smile when I bring it out 😊
Easter lockdown idea no 4: Make Easter cards
I was really keen to make Easter cards with the children this year, even though we often don't bother, as we obviously won't be spending Easter with grandparents and our wider family, so I know they will absolutely love to receive these in the post. We looked around online for inspiration, and my favourites that we made were the ones with the handprint and fingerprint chicks – really quick and easy, and so effective.
Easter lockdown idea no 5: Make an Easter Tree
Having an 'Easter Tree' up has become a bit of a tradition in our house over the years, and I do love how cheerful it makes our hallway look. I've always loved the colours and positivity of all the Spring decorations, and this year especially, it feels right to inject as much of this into our homes as possible.
In the past, we've just got a bit of branch for our Easter tree (sometimes painted it white, sometimes left it bare and natural), and then hung decorations from it. This year, my husband cut off a small branch a couple of weeks ago when he was pruning some hazel trees, and I popped it in water. Anyway, happy days (I am no gardener so this slightly surprised me!) it seemed to do quite well indoors, and has sprouted leaves and buds for us, so I am completely loving the fact that our Easter tree is now really growing! All our little decorations that we've collected over time have come out of their box, including the cute chicks my mum knitted a few years back. If you don't already have a stash of decorations, you could very easily make some simple pom poms and hang them from the tree, or get the children to colour in some Easter shapes on card. However you dress yours, it will look really pretty and cheerful (and takes up nowhere near as much room as the Christmas equivalent!).
We put our tree on a sideboard in the hallway, which is also home to a cute little glass bunny cloche that took about 2 minutes to put together with supplies from Hobbycraft last year. I just put a wooden bunny and dried moss inside a glass cloche, and I think the result is really lovely.
Easter lockdown idea no 6: Make Easter decorations with clay
Whilst we had the cookie cutters out for baking, we thought we'd put them to good use by making some new hanging decorations for our Easter Tree. Luckily, we had some air drying clay in our craft cupboard (oven clay would also work really well), and with some letter embosser sticks that I bought for making Christmas decorations, we stamped in little messages. I love the idea of these coming out every year with our Easter decorations, reminding us of this time in the children's lives when history was being made. The air drying clay we used will dry out to a pure white, at which point it could be painted (rather like our stones), but I quite like the idea of leaving them plain, and hanging with pretty pastel ribbons.
Without the clay and stencils, you could still make beautiful decorations to keep by cutting the shapes out of card and colouring or painting them, or making up some salt dough and then creating shapes and patterns with a cocktail stick.
Easter lockdown idea no 7: Go on an Easter Egg Hunt
Whilst we won't be able to venture out and about for our Easter Egg Hunts this year, that doesn't have to stop us having fun indoors! Some ideas for your egg hunt this Easter at home:
Make a treasure hunt: kids love a treasure hunt, so why not set them a sequence of clues which they can follow around the house or garden in sequence to get a prize? For little ones, pictures of places to find around the home might work well, for older children, you can ramp up the difficulty with more cryptic clues and riddles! For added parent-points, set it all up the night before when they're asleep – waking up to fun like this is the stuff childhood memories are made of 😊
If you haven't managed to get any Easter eggs, then hide some home made paper 'tokens' or 1 pence coins instead. Your child can collect them up to 'trade in' for a little treat – whether that's chocolate, or a special activity like a family board game or an extra half hour at bedtime. Also a good way to minimise choccie consumption for those worried about sugar-fuelled children going crazy indoors!
Give them personalised 'collection' bags, either homemade or we have lots of options that can be used year after year.
Set different challenges for different ages by making your children hunt for different coloured eggs, or write their names on a piece of paper inside the plastic eggs. If they find one with someone else's name, they have to put it back. Only if they return with all their own eggs do they get to claim their prize!
Put puzzle pieces inside plastic eggs – so they have to collect all the eggs to finish their puzzle and get a prize 😊 My kids would love this even more with Lego inside the eggs – it doesn't have to be a new set, just challenge them to make something with all the pieces that they find in order to finish the hunt.
Easter lockdown idea no 8: Put Rainbows in your windows
No lockdown list would be complete without some rainbows! When we've ventured out of the house on dog walks, we've really loved seeing our neighbours' rainbows, and Emma created one of her own to thank any delivery drivers coming to our house. With these drivers so brilliant now at the contactless deliveries, we often end up missing them to say thank you, but we do want them to know how grateful we are for all that they are doing.
Our re-positionable and re-usable rainbow, Easter and Spring window stickers are also a lovely way to brighten your windows. View the whole collection by clicking here.
Whatever your family are up to, from all of us and our families here at Stickerscape, we wish you a wonderful Easter. Stay safe, be kind and let's look after each other x